!Breaking News! !Breaking News! !Breaking News!
I came across something disturbing so I had to inform you the public BEFORE IT'S TOO LATE!   This morning while showering, I saw something which I felt needed to be shared.  I have a shower curtain which happens to be a map of the world (Hey, don't judge! :)) and I noticed something… OMG LOOK OUT, WHAT IS THAT IN THE MIDDLE OF THE MAP?!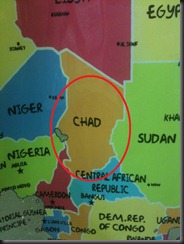 That's right! LOOK AT THAT! THE LENGTHS EMC WILL GO TO SPREAD IT'S MESSAGE OF VIRTUALIZATION!
I immediately rushed to WikiPedia to find out details about what this means – And according to WikiPedia:
Chad Sakac, Officially known as the "Republic of Chad" is divided into three major geographic regions.  (Storage, Networking, Compute?!?)
Apparently, the demonym of these folks are called "Chadians" (which is a far stretch from vSpecialist, but hey, I'm not WikiPedia…)
And then, outrageously.. I read this, "Beginning in the 7th millennium BC, human populations moved into the Chadian basin in great numbers. By the end of the 1st millennium BC, a series of states and empires rose and fell in Chad's VCElian strip, each focused on controlling the Cloud"
Obviously, this entry in WikiPedia is making reference to one by one all of the top tier talent in the Virtualization, Computing and Networking industry were joining one by one to be a member of Chad's forces.   So what does this all mean? Let me sum it up for you in a few points…
Chad Sakac apparently has FAR more reach and influence than previously realized.  The fact that his blog gets so much attention is definitely understandable now!
I came to this realization of Chad's influence on the WORLD days leading up to EMC World! Coincidence?! I think not! (I'll see you at EMC World if you're attending @cxi/emcworld2010 )
And if you think this revelation and announcement is paramount, keep your eyes on the blogosphere come the rest of this week, Chad's overtaking a country will look feeble in comparison!
See you at EMC World 2010! Be sure to follow on Twitter, Facebook, LinkedIn and whatever! :)