So seriously, if you haven't seen this post by Steve or Val, well.. until things are released I cannot say much more than them! But once I can, you'll get the motherload of it!
What can I say, which has already been said though…
For those of you who manage NetApp filers, you likely are familiar with the Command Line (CLI) or FilerView. I'd like to say "Welcome to the change to that experience" and that change comes in the form of an MMC snap-in which looks a bit like this!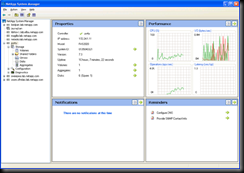 Believe me, if I didn't fear for my own disclosure, I'd say more!
One of my favorite bits of this, is the fact that I can manage multiple filers from this single interface – Add them in and they're ready to go. The same can be said for multiple members of a cluster. What? It knows who its cluster pairs are and can tell you about issues? no that's far too cool to be true.
There's so much more… which I look forward to disclosing when this officially launches, but just do know that it is really-cool and will improve your management experience even more-so than you currently have today!
I will say nothing more on this! :)