YES! Here on the Eve of the New Year, I am bring this super cool module to you!
Just a recap of the last Dashboard snapshot, the portion we'll be addressing is Visualizations!
Once you click that little gem of a link you'll be brought to a page which looks like this:

As usual I censored out the Filer name, Serial # and other things, but I did leave in some nice details. Note: based on latest loaded AutoSupport: 2008/12/27 06:00:00 PM -06:00
The reason I mention that is, you can run one Visualization report for say, December, and then pull one for November and then compare them for whatever reasons you need.
That single benefit alone makes it even more super cool ;)
At this point, click one of the objects in there (System, Disks, Raid, QTrees or Storage)
It will render the data and make it available to you: You can also export it to PDF of XLS
Time for a view of the System Tab: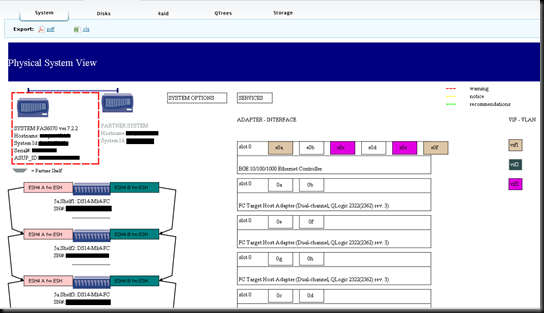 This is the top portion of the System Tab. Notice how it breaks things down as if it were an actual system, giving you details. Something which you may not notice unless you hover are these cool popups (Popups do not function in Chrome)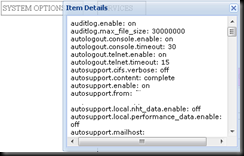 System Options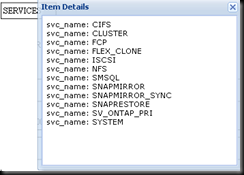 Services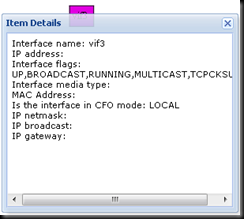 VIF3
And so on and so forth! You can hover over any object (Interfaces, Shelves, Loops) and it will provide you information which you'd normally spend your time scouring through sysconfig's in order to find. That little bit right there is pretty damn sweet if you ask me!
Now when you go over to Disks you get a similar picture: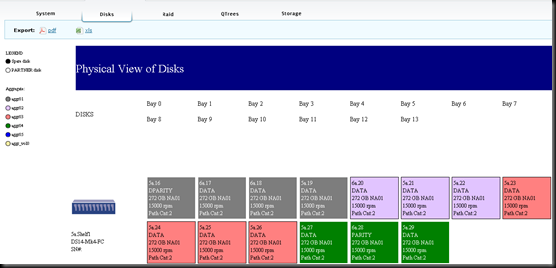 And hovering over one of our disks gives us information like this: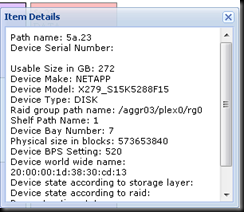 Details of a Disk
Now taking this journey along, we visit the Raid View of the Disks: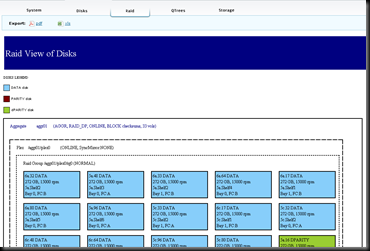 This one is fairly straight forward, same type of pop-up data – Very useful, but not really super exciting, unless you are looking forward to this specific data (I do at times, but at the moment, It feels anti-climactic with what is coming ahead! :))
Here is where it gets really cool (Part1) with Volume Logical Layout: QTrees and LUNS:
This is the first of the coolness! Below I've included something with LUN's in it so you get that perspective as well.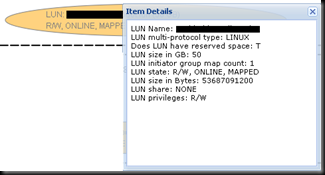 And last but definitely not least Capacity View! *Cheer!* Err.. :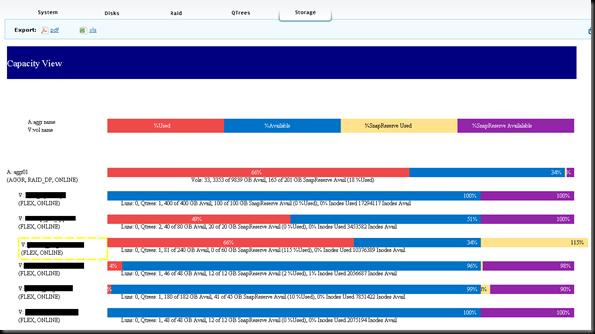 While there are so many things I can hover over and get details on (When you hover it will ofcourse tell you information about the volume, settings, etc) I want to make a special focus on the one with the yellow border!)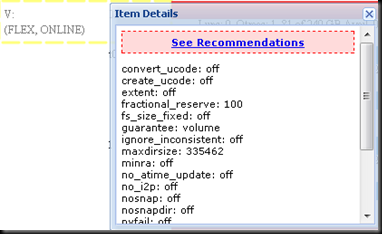 Notice the "See Recommendations" That is amazingly cool, if you ask me ;)
A little click on that and suddenly you see: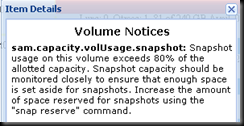 Remember as I've mentioned this before, this is a suggestion of discussing your state and that you ought to look at it. If it is part of your design to run something where you get a notice, that's just fine! If you weren't aware of it on a volume though, definitely worth investigating!
And that brings us to the end of the NetApp Premium AutoSupport Visualizations segment. I'd like to note the export to PDF and XLS are very cool, however you do not retain that same level of 'interactive popups' in PDF format that you do accessing it via WebGui. So, this is a pure case of What you See is What you Get – once you export out to PDF. And when you export to XLS You don't get any pretty pictures, but you do get all of the raw data that you would see in the Popups, so they're very complimentary to each other, and your ability to present and manipulate the data!
Hopefully you've enjoyed this segment, I'll be working on Configurations next so look forward to my next post!