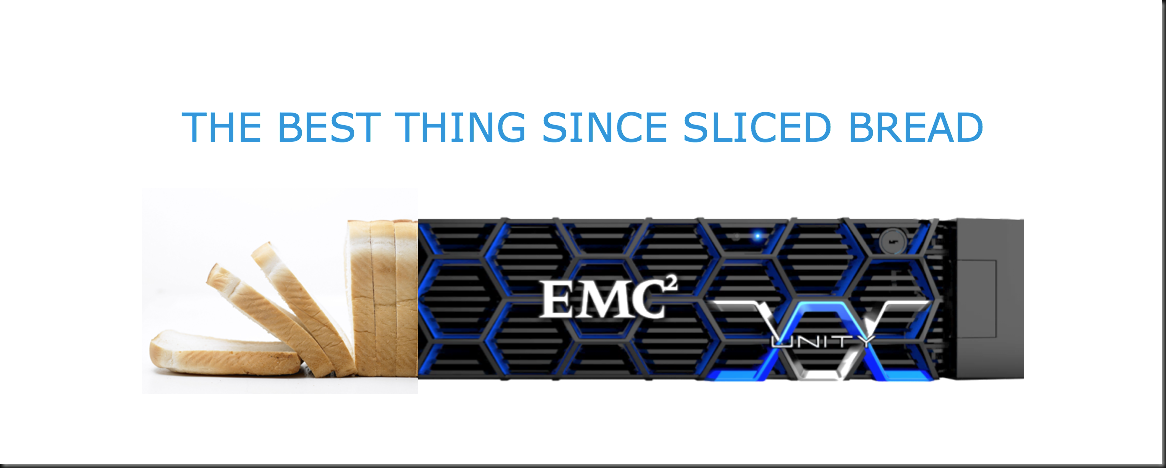 OMG! Can you believe it is here! A product announcement we weren't exactly expecting, but nonetheless it is here! I particularly love the sliced bread image, honestly that was the huge incentive for me to write this blog post. Tip for your Product Marketers out there at Vendors; If you have something ridiculous and sillie in your Pre-Briefings, there's a MUCH greater chance I'll write about it, oh and if your technology is great too sure, but cmon, BREAD! :)
So what's the deal what's the dilly, what's up with this new Unity Platform?!?  Well, I'll do what I can to share stuff you may find useful, and then there are some unknowns that frankly I won't be sharing, given their unknowingness :)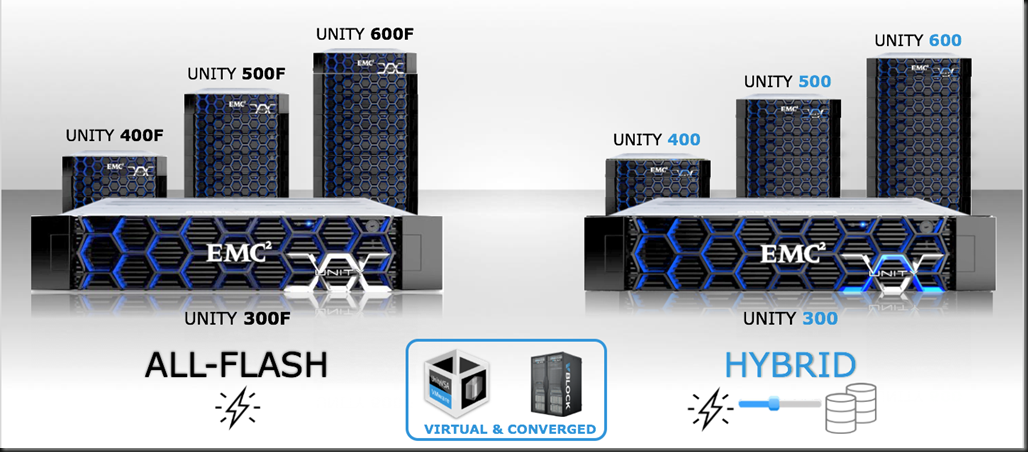 Unity is listed as made available in All-Flash and Hybrid configurations! There are some other slides which talk to its affordability 'starting at x dollars', however I won't go into detail on those explicitly because I cannot confirm nor deny just how valid they are.  e.g., it's one thing to say, "Wow you can get this thing really cheap, however you'd probably never build a configuration so scaled back like that".  So while yes, a marketing message does SAY that, it would be technical malfeasance to allow it to go into production in such a state… I reserve the right to change that stance at some point, but for the moment… Gonna roll with things as they are. :)
What's new in Unity?!
Okay this is a fair area to discuss, because there are definitely some cool features, attributes, etc which are unique to this new platform!
Management is done with HTML5 and not FLASH or JAVA or TELETYPE!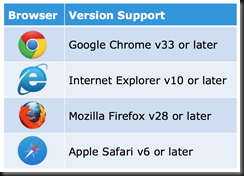 ESRS for Support is an embedded Docker instance! That's pretty cool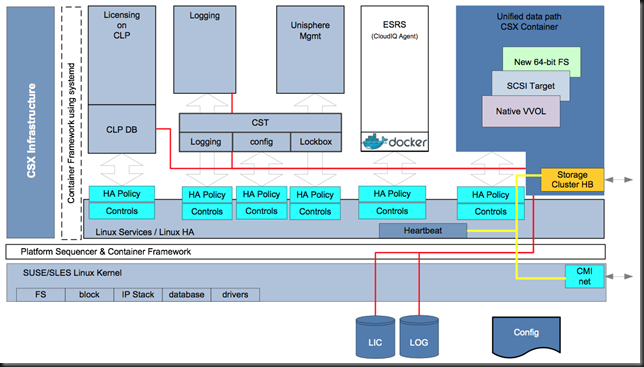 Yes that's a deep dive into the architecture a bit (See the docker instance!) You can take what you like from this architecture breakdown, I thought it was interesting enough to share!
So some of the features which they tout about EMC Unity and my comments regarding it…
EMC Unity is Simple

Err… SANs haven't been "difficult" in years, unless you compare (as many often do) to a Clariion or ancient DMX, otherwise, "Simple" is expected, not a benefit

EMC Unity is Modern

Okay, yea the inclusion of Docker is a step in the right direction of "Modern", so I'll give you that.  Oh and it IS available as a Virtual Edition so you can run it as a VM…

EMC Unity is Flexible

I would damn well hope so. Albeit some of the measures of flexibility aren't all that much different than VNX's of the past, so I'm not sure what you're saying here…

EMC Unity is Affordable

Okay… Sure, I'll say it is, but then again so is ANYONE using Flash Disks at this point. The affordability likely is driven by the cost of storage going down, not the SANs themselves, so we'll have to agree to disagree to agree here. :)
Some areas I 'question' regarding it, take what you will from this
See this image for my first areas of questioning…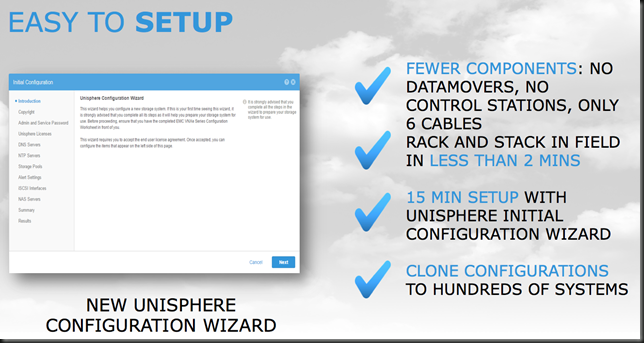 So it claims it is easy to setup, hell, it can be setup in less than two minutes and then configured in under 15 minutes!
Err… You ever use cage nuts? OMG If I could get all of the appropriate ones in place in 2 minutes that would be GREAT! This is absolutely a marketing message written by someone who doesn't know what the hell a server is, storage is, or the fact that racking and stacking requires, oh I don't know, RACKING AND STACKING. Hell, taking it out of the BOX might take more than two minutes.  So no, get back to the drawing board on that. Am I bitter? Sure, but I don't want a horrible false sense of 'speed' to be represented because it greatly misrepresents the facts, unless it mysteriously just appears in the rack with a 120 second time clock…
Now, to the earlier point there, fewer components! No Data Movers, No Control Stations and only 6 cables! (Well, unless you have multiple shelves, then I'd HOPE you have more than 6 cables…)
Note: The smallest and the largest system only have two controllers, period. No more, no less. So absolutely there is scale-up, but no scale-out with additional controllers like you'd get from a VMAX or XtremIO.
Now onto the "15 min setup" I guess we don't deserve the full spelling of the word "Minute" … ;)   I'm sure the system is totally up at that point. boom! But then you still need to carve stuff up, so don't think it'll change too much when it comes to what it takes to configure your SAN today. Volumes are still carved, LUNs still presented, yada yada.
One area I want to specifically mention (Correct me if I'm wrong but this is the impression I've received from others).
The EMC Unity is NOT the replacement for the VNXe or maybe it is? Maybe it is intending to replace the VNX line? That's one we'll need to figure out as time goes on and the dust starts to settle.
What does EMC Unity mean for the Dell / EMC Relationship
This is a great question! I'm glad you asked!  No idea. The Dell / EMC Merger hasn't happened yet, so until that's finalized, and marriages are formed, relationships bonded, and products 'normalized' we will see what happens. So who will win after 18-36 months from a product set… Only the future will tell.  We have a lot of products to normalize in that time though, VNX, VNXe, EMC Unity, VMAX, XtremeIO, DSSD, Equallogic, Compellent – and many others!
What does this mean for me, an EMC Customer?!
It probably means, if someone was quoting you a VNX or was ABOUT to quote you a VNX, they might end up quoting you an EMC Unity system.  I mean if it comes in less expensive and gives you the solution you're looking for, definitely sounds like a solid plan!  This has been in the coming for awhile but at the same time was being kept under wraps, respectively which makes sense. 
Why is this blog post hitting pretty aggressively on all sides of this release? WHY R U NO POSITIVES!?
The reason I'm laying things out as they are, is while this is great, a new release leveraging numerous patents and new technologies and blah blah blah, it also is leaving me (and you) wondering what's changed much from this release vs past releases.  I'm not going to whitewash a product release as evolutionary when aside from a few things which I found "cool" (Docker, Loaf of Bread), I'm not directly floored by game changing "Wow, this is solving a problem I didn't even know I had!"
This will likely be a good product and replacement for some existing product (VNX? VNXe? Existing SANs?!) and set the tone for future generations of solutions and such.   But get out there, learn more, maybe there's a special secret sauce that applies to you as an individual or an organization which transcends the other features of this solution I intentionally glossed over!
Enjoy EMC World and the briefings and updates and announcements! <3