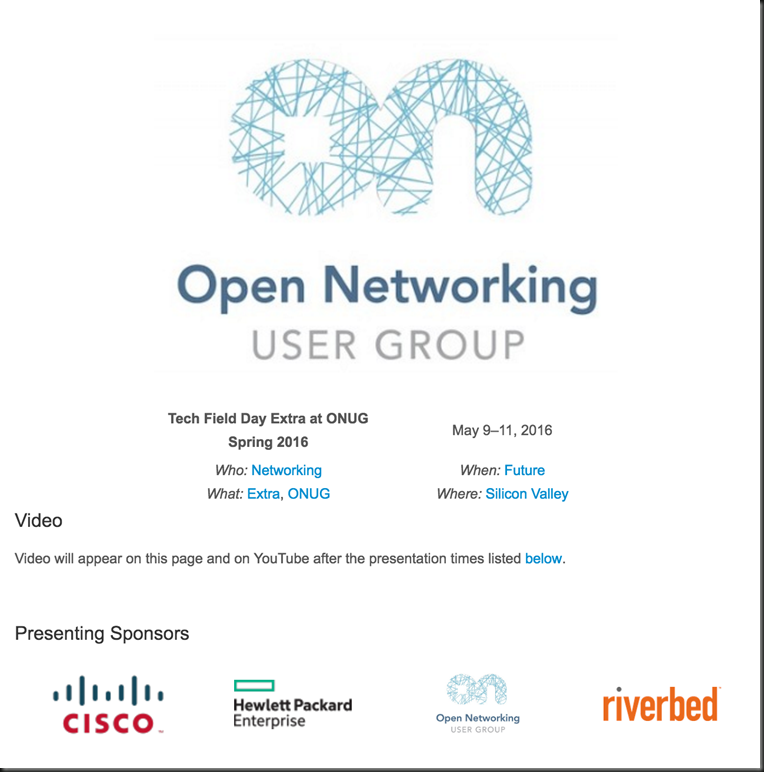 Hey everyone! Wow what a week ahead! I haven't been down in Silicon Valley for at least a few months now and whoa what an adventure this week will be!
I am honored to be a delegate for Tech Field Day Extra at the Open Networking User Group Spring 2016 conference! And let me tell you, this will be quite a week of adventure and fun!
Our presenting sponsors, whoa, Cisco, HP's Enterprise Division and Riverbed to talk about their SDWAN product/solution. It's going to be quite the funfest of learning and educations!
I won't be able to go into too many details at the moment but in post after things are rolling, my tweets will be a plenty and my blog will be explicitly detailed, to the best of my ability :)
And the vendors presenting are only half of the picture, my fellow delegates, OMG I am going to be surrounded by some of the finest minds in networking! <3
Be sure to check each of them out on the Twitters as they're quite the crew to follow!
@BrandonCarroll, @Overlaid, @SharpNetwork, @RowellDionicio, @that1guy_15
So keep your eyes and ears peeled for some great stories, great content and great strides to the next generation of Networking! <3