Hey there, I'm sure you found this because you're looking for an awesome guide to make your first or millionth VMworld an awesome experience.  Well you've come to the right place, and if that doesn't work out for you look at the bottom and find the tips/tricks and more from past years to help you prepare!  Only the most essential information will be repeated, everything else I definitely encourage you to refer to past posts which cover the details!
45 DAYS UNTIL VMWORLD!!!
That's right, we are only 45 days away, which for some of you is eons away, and others of you is essentially around the corner. So let's start with some of the most basics when it comes to attending VMworld…
Attending for free?!?!
Every now and then some individuals or organizations get together and offer a Free Pass to VMworld! I'm not tracking too many of those at this time, but I am tracking one…
The awesome rockstars at Infinio makers of a NFS accelerator like no other are offering a Free Attendee Pass to VMworld, including passes to the VMUnderground Party! Awesome, right? Registration for this ends 21st JUL 2014 so be sure to get signed up stat!
Register now and you'll be entered to win:
One full-conference pass to VMworld 2014 in San Francisco
(the conference pass includes access to the VMworld party and Hall Crawl events)
Access to the VMunderground party
Cool Infinio swag
Other great stuff!
Cool stuff right?! As other free pass / free ride options appear I'll be sure to update this post to reflect them!
Our good friends at Simplivity are having a giveaway too! VMworld pass and Travel Stipend, awesome right?!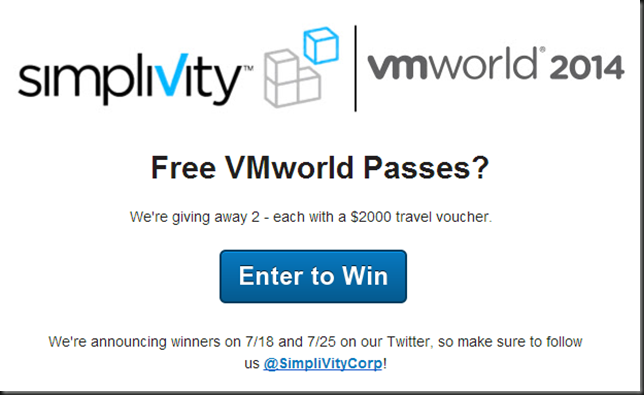 Contest details:
Limited to one entry per person.
One winner is randomly selected each week (7/18/14 and 7/25/14).
Each prize is valued at $3995.
Each prize consists of one (1) VMworld 2014 pass (to either US or Barcelona) and one (1) travel stipend of $2000
Limited to United States and Canada (excluding Québec)
See here for the full Contest Rules and be sure to register here!
FINALLY! vDestination.com's Free Trip to VMworld by Greg Stuart / @vDestination ! ! !
Check out details here, and the contest runs until August 1st SO ACT NOW!!!!
 http://vdestination.com/2014/07/28/go-to-vmworld-2014-for-free/
Registration and Discounts
If you are paying full price to attend VMworld … Well, there are ways you may NOT have to pay the highest fee(s) available!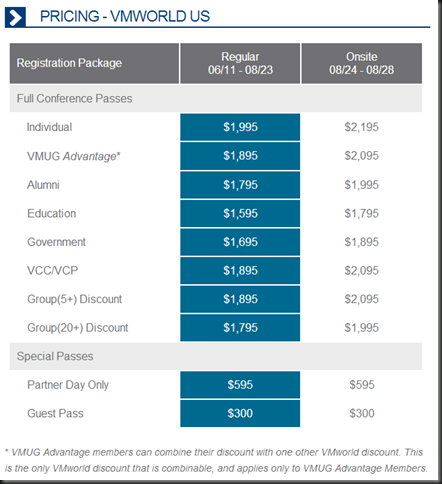 Be sure to take advantage of things like VMUG Advantage, VCP and Alumni discount, and if your Vendor has a special discount code (Like EMC, NetApp, Dell, etc) definitely find out and roll with it!   Whatever it takes to get you there, paid for, and enjoying the show!
Also you can use your PSO Credits to purchase your registration for the event so that's positive for you PSO Organizations on there! If you're attending the TAM Day (If you are a VMware TAM Services customer) check out the "Registering for TAM Day" link for more information on how to handle that during registration!
And if you happen to be stuck in the position of, "My employer won't send me because they don't value education" you may want to check this helpful guide to help CONVINCE your employer. :)
Packing for the big event!
Must Have Items to Pack and Consider:
Comfortable Shoes:   I cannot stress this enough (I feel like I've said it before, and I have, and I'll say it again, Oh and again.) BRING COMFORTABLE SHOES!.  Whether you're sticking ENTIRELY to the show floor or you walk outside anywhere (a lot of the events are OFF-Site at times) you'll find yourself walking.   Not only walking streets, but hills and environments the likes of which Cable Cars were designed for! So bring your comfortable shoes; You can thank me later!
Bring Business Cards: I know who you are, I met you, you're the guy who has a QR code! You're all SCAN MY QR CODE TO GUARANTEE WE'LL NEVER TALK EVVVEEEEEEEERRRRRR!!!! It's true, it's serious. People don't exchange QR codes and remember each other.  You don't enter that random contest to win an iPad or a Nexus 7 by giving them your QR code in a bowl.   You exchange Business Cards. Deal with it. Oh and PACK SOME BUSINESS CARDS!
Laptop:   If you don't need your laptop because you're not going to be working while at the show, leave it at home.   If you bring your laptop because you need to work (like me) and you want to accomplish anything of relevance, LEAVE IT IN YOUR ROOM.  The last thing you need to do is worry about where your laptop is, especially because once you bring it, you will NEVER take it out of it's case when you hit the show floor, less than 3% of people do. (Exceptions: Blogger, Analyst and other folks who specifically are demoing and using the laptop at set intervals) Save yourself grief though and leave it in the Hotel room, or leave it at home.
Clothing:    If you're a suit guy, bring suits.  If you're a T-shirt and Jeans guy, bring that.   This is a conference like any conference so you'll likely end up with random T-Shirts, random this and that's.  (Oh if you're job hunting here… Dress above your station, Seriously, no SERIOUSLY DO IT. ;))    Pack appropriately don't over-pack, per se, but be sure to pack adequately.   If you can survive with Carry-On only (My Preferred way to live) you will WIN!   If you find yourself needing to buy things once you hit the ground it's not a major problem, but consider San Francisco's Sales Tax is 9.5%….
Cell Phone:   I added this at the last minute.   If you find your ATT Phone doesn't work to save your life for Data. I heartily welcome to you San Francisco.   … Mobile will be a challenge in every case, if it's improved you are a lucky beast! If it doesn't work, just operate on that expectation!
Getting there
Getting to VMworld will likely involve you taking an airplane unless you live in the Nor-Cal area, and even then you'll want to stay locally; Believe me – The details covered under Transportation speak to it rather well the reasoning, justification and even a little ROI/TCO on why staying within 3 miles of Moscone is so important.    For those of you who still have yet to book your transportation and as the day quickly comes upon us I advise you to check out ITASoftware's Matrix as a means to find the 'cheapest' air fare and go from there.  It's a great tool which will help you search and see what the cheapest is; and it does update as tickets disappear and only more expensive fares are left.   I've also interestingly been using Orbitz to book flights in the recent past on my returns home from Afghanistan, it is interesting but helps split the difference of some airline costs!  Oh, and if you can carpool from the Airport, doooo it!
Staying there
If you read my blog post in March of this year encouraging you to BOOK YOUR HOTELS NOW, then you should be taken care of! But for those of you who didn't book your hotel at that time (I didn't… but I wanted you to get ahead of it! ;)) Here are some alternatives which can help take the sting out of the $400 a night hotels which are currently available (Alright, seriously, Yea, the cheap-ass hotels are coming in at >$400 due to the fact that San Francisco is a hotel wasteland.)   VMworld's own website goes on to claim that Hotels are priced between $219 to $389 a day but that is both delusional and really only applies if you booked your hotel at the dawn of time. :)  There are 'discounts to be had' but also be wary of WHERE the hotels are in relation to the convention center because that burden of a commute can drain you pretty quickly.   If you're new to the game, you should check out Airbnb which is basically a service where people rent out their apartments, houses, rooms in their homes, etc.   There are a lot of options, as an example I booked 7 days at a really nice studio all to myself for ~$1300; Which to say the least is not bad considering $400 a night hotels are ridiculous.   So if the opportunity presents itself, find a nice place to stay with a reasonable price – that's a far better alternative to staying at the Marriott SFO at over an hours travel away!
Eating there
The events of VMworld should be feeding you at most every opportunity, whether breakfast, lunch, or some partner sponsored dinner-type event.   This isn't like the days gone past where food was high quality and flowing at every opportunity.   So keep your wits about you and take the opportunities for food as they come along.   There are a lot of food opportunities all about which you can also take advantage of, which won't require you to break the bank.
Getting to the Convention Center and Events daily
This differs a little bit from the "Getting there" above, as this is focused on how you will actually be getting around.   If you're within a mile of the convention center it is fair to say you will be WALKING. There is a theoretical (but unpublished) bus schedule which will commute from some hotels to the convention center, but by the time you wait for a bus to arrive and deliver you to Moscone in the very walkable city of San Francisco, you could have walked there.   If you find yourself considerably farther out taking some form of public transportation isn't the worst, though from a ROI perspective taking a Taxi and just GETTING there is probably the best use of your time and money.  Then when it comes to attending the events which will occur either on-site or off-site use your better judgement. Walk in groups (will go into more details on that later) especially it's a good way to meet and greet with others you may not know (yet). If you use twitter (Of course you use twitter!) start chatting and getting to know OTHER attendees you've never met in person so you can walk with them!   If you do find yourself staying a little farther outside the norm take this analysis into consideration.
Taking BART:   A lot of you say "Yea, I'm gonna take BART and I'll be all good"   Don't get me wrong. BART is a great idea.  If you have time to burn, I highly encourage it.    Whoa, Whoa, hold on a minute, are you openly bashing public transportation?   Yea, kind of, but not exactly.    Allow me to explain :)

If you are within 1 Mile of Moscone staying at the JW Marriott, Renaissance, Marriott Marquis, Serrano, Inter-Continental and so forth?  WALK. ONE FOOT IN FRONT OF THE OTHER.    Yea, You should be walking, it's not a difficult task.   If you have a lot of stuff to carry, or there's a bunch of you staying a mile away and you're lazy (What?! Lazy people in IT? WHERE?!) Then hop in a cab, it's semi-efficient.   But otherwise, WALK.    But wait, what about hotels farther away?!
If you like a lot of very sad folks are staying at the SFO Marriott (~15 miles away) Get a car and car-pool, it'll be cheaper.    Consider the following calculation.    Taking BART from the SFO Marriott only costs $5 One-Way! However it entails a 60 minute one-way trip, including walking 1.5 Miles all-in.    If I'm in San Francisco on my own dime and I have time to burn this is a great idea.   However, I like you are here for a fixed amount of time, and the burden taking public transportation losing a minimum of 2hrs a day in transport with walking 3 miles a day guaranteed is no way to spend your extremely valuable time.

Renting a Car:  WTF? WHO RENTS A CAR IN SAN FRANCISCO!??! No one.  Unless you're staying at the SFO Marriott, and I suggest ONE of you rents for every 4-5 people you have in a group or party. (Or find some friends! :))  FYI, the time/distance by car is ~30 minutes.   Which means you lose an hour of your day traveling, but at least it is on YOUR terms.   There is no "Last car of the day" and Parking in/around Moscone seems fairly reasonable
Taking a Taxi (~1-2M):   If you're within ~1-2 miles of Moscone, sure, take a taxi if it's fitting… Sometimes we all have deadlines we need to support, I respect and understand that!
Taking a Taxi (~15M):    If you're staying at the SFO Marriott for example and you take a Taxi, That is a $45 one way trip.  If you have that kind of money to burn, I have a bridge to sell you (and potentially some licensing… HAH!) But seriously, That CAN work out if you load that car up with 4-5 of you and group together, but do not do it solo.
The Top 5 MUSTs for VMworld 2014
Bring and WEAR Comfortable Shoes

To quote a good friend who once was working a tech conference show floor when a marketing head came over to him and said, "I'm sorry, you need to change your shoes", this to a highly technical mind who is going to be standing on the show floor talking to customers for >10hrs a day.  His cordial response was, "I'm here to help revolutionize our customers datacenters, I'm not here to fracking sell shoes".  Alright, maybe I slightly censored things a bit… But you get the point; and if not, I'll hit it home!   Hey, you're a customer, a partner, someone who is spending their hard earned money to BE there and learn about awesome and excellent technologies and network and meet with other people.  This isn't Milan or the Club (in the club, club, club…) Be comfortable, be yourself and well, be comfortable… You're going to be doing a lot of walking and standing, and it's going to hurt!

Carry only what you need in your wallet and on your person

Remember that time your wallet got stolen in San Francisco and it ruined your whole week? Yea, it didn't happen and it won't.  The same can be said for your Android, iPad, Laptop, Bag, or some other ridiculous thing.   Hey, I get it… You're going to be taking notes while you're there, so you need your laptop… Wait, sorry I can't say that with a straight face…, I mean… ;)  Just be responsible and reasonable.  There are a lot of good people here at the conference (I've found the owners of a number of Blackberries, iPhones, missing Laptops, you name it) but on the same token I've also met a lot of sad people who turned their head for a second and were without their precious (my precious…)  Please don't let that be you.

Contact your vendor / Sales / SE and let them know you'll BE at VMworld!

Did you know that your SEs not only want to meet, greet and see you at VMworld… they also want and need justification to get sent there themselves?  Imagine how grateful they'd be to you for giving their management justification to send THEM!  I'm sure their expense wallets will open like a waterfall for just kind of awesomeness! Oh, and of course they'll want to talk to you about their tech or whatever.   But seriously, Vendors throw parties and it's nice for them to know when their customers will be there so they can invite you, or get you in front of their Execs and Leadership for your feedback and all that jazz.   It's a great opportunity to forge those partnerships even stronger, so take advantage of it!

Bring Business Cards

I say this every year and I'll continue to say it.  Smaller vendors will have contests which ask for business cards, oh and people like to exchange business cards! Every now and then someone will say BUT I HAS A QR CODE. Yea, no one wants your stupid QR code.   There, I said it. Your QR code is stupid. Get a damn business card and exchange your information, I mean what's the alternative? #5?

Get an account on Twitter (now) and start following the who, what, where of goings on leading up to and AT VMworld!

Yea. Get yourself a twitter account, it's not difficult, and there's a client for every mobile device.   Interesting fact, the live-tweet coverage of the Keynotes quite frankly usually blows away the ACTUAL Keynote. :)   We also use Twitter as a means of keeping everyone abreast of what is going on at the Conference, Where the Parties are, who is attending various parties, and after parties as well!   If you're not on Twitter, the only one missing out is you.   Some hashtags to follow before/during VMworld are
Don't be an idiot!
This gets its own section because this DOES come up at every conference. It's sad that it does, but it sadly DOES. So to quote from last year.
Seriously. Don't be a misogynist or an otherwise stupid idiot, in public or private

I know it's a conference, and you are outside of your element, but that doesn't grant you the right to be a douche bag, a drunken idiot, or a sexual harassment lawsuit waiting to happen.   @drjmetz summed it up pretty nicely in his Technical Conferences and (In)Appropriate Behavior  So, please don't be that guy (or girl)
Security and Safety
Only carry what you need
This is a general 'pick-pocket' city rule. If you have a wallet with 'x' number of credit cards, pick the ones you need MOST and leave the rest somewhere safe [At home, or in the hotel/safe] To re-enforce that, let me give you an example of things you NEED and things you DONT need

NEED: Credit Card, Cash, ID [Passport, State ID or License, not ALL three with you though] Insurance Card, BUSINESS CARDS
DON'T NEED: Library Card, Membership card to some arbitrarily local thing which doesn't apply here, blah blah blah

Now I want you to seriously think about it. If you lost your wallet how many of these items would it HURT to lose and how many would be ANNOYING to lose. Losing ID sucks as does losing credit cards and cash, but losing the wallet normally makes that happen. The other misc don't need items is just insult to injury in annoyance. Ride thin and keep only what you need on you.
Write your name in something you own
Once upon a time [a few years ago] I got a phone call from the Las Vegas airport asking if I had lost my Notebook there. Having not been to Vegas in some time, I did not. They had found a notebook which had MY business card in it! I knew there was an internal VMware meeting going on that week and I knew who I had given my card to, so I took down the information and tracked down who the notebook belonged to. If his name was WRITTEN in the notebook or similarly on whatever item it was, they could have contacted him directly. The point is… take ownership of what belongs to you and you have a vested interest in :)
Travel in a group or at least don't travel alone
Taking a step further beyond pick-pocketing, there are other matters to be concerned about.   Sure you should be fine if you are out at 8PM after an event, or even 10PM but the later it gets, the crazier it gets (e.g. Homeless Man Gets Sleeping Bag Stolen During SF SoMa Plunger Attack)   I sincerely care for all of you attending, whether I know you or not and want you to be prepared.   I've followed the 'crazy' that occurs on the streets in/around Moscone and SF downtown for years; do your best not to travel alone or put yourself into otherwise potentially compromising situations, it's not worth the headache and heartache.   Though what you do get is stories like….
Last time VMworld was in San Francisco, It was around 11PM as I was walking back from having dinner with @Beaker and there in the Yerba Buena Gardens fountain was a man sloshing around knee deep in the water picking up change.    For those of you who follow my Photo Journeys of the world on Instagram and shared on Tumblr note I never took this photo.   Because let's just say… Some crazy is best left observed and not documented with photos; the end result is me being alive to tell you this very story!
Be careful, any time of day or night.   But don't be afraid to enjoy the beautiful city! 
Some final notes, comments
For a number of years now EMC has been hosting an annual Dodgeball Charity Tournament #v0dgeball, raising all proceeds for the Wounded Warrior project.  Some of you may realize I've spent the past two years running the Infrastructure for the War Effort in Afghanistan and I've personally seen the impact that the Pre and Post results of this foundation is.   So if you're looking for some fun with some technical champions who are also taking a stand for something that matters to them be sure to attend this event!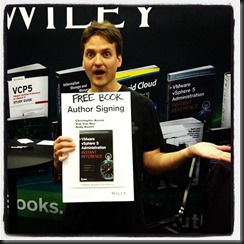 Ever wanted to have the technical book(s) you love signed by their authors? Well guess what, most if not all of them will likely be attending, and may even be at pre-scheduled book signings (That may depend upon the publisher/etc so stay tuned for details on that!)  Having partaken in these in the past there are even opportunities for the publisher to give copies of the book away for free! (Including to have the books signed there) so take advantage of these opportunities on the show floor, we authors love it as well! <3
This is the ultimate in networking events where a lot of us don't get the opportunity to see each other, perhaps but once a year depending.   Take that opportunity to meet those people you've talked with but never met, or meet those people you've always wanted to meet. It will be a whirlwind experience of non-stop action for the entire week the show is active but this is one of those once-in-a-lifetime experiences for some people so it's best to make this experience one to remember.   If you find yourself waking up in the morning, attending a keynote, going to a session or two, eating in the chow hall by yourself and going to your hotel following the final session of the day; You're doing it wrong.  Especially if that is the case re-read this post and read the past articles below to make sure this experience is one which will change your life for the better.
Oh and don't forget to check out  the VMworld 2014 Gatherings, Tweetups, Parties and Activities page for various event details!
Past articles with Tips and Tricks for attending VMworld!
I hope you have a safe and joyous VMworld, Let me know if this helps, if you want to post any additional comments, tips, suggestions, Car-pooling, all that.