Here is the mail I will be sending to the folks who I send vouchers to.. :)
Microsoft Learning (and I:)) are pleased to offer an exclusive discount on your Microsoft Certification exam
Use the discount code below and pay only $25USD for your Microsoft Certification exam
To register for your exam visit: http://www.register.prometric.com This offer is only good until June 30th, 2009 so be sure to act quick on this!
These exams have "Second Shot" built in, meaning if for whatever reason you do not pass the first time, you can use the same voucher for your second time at $0 cost.
If for whatever reason you find yourself unable to use the voucher you're given, let me know immediately so it can be recycled to someone else who can use it!
Your voucher code is: VoucherCodeHere!
If you need any help finding resources to study, train and prepare for your exam, let me know and I can help you get access to those resources.
Thanks!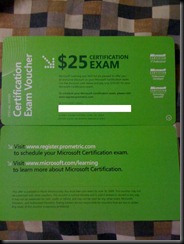 Christopher Kusek, CISSP
Technology Evangelist, Consultant
CISSP | MCSE* | NCSA* | NCIE* | CWUG
NetApp
630.362.1320 Mobile
Christopher.Kusek@NetApp.com
Use 50% Less Storage with NetApp
P Please consider the environment before printing this message.

Yea, so this is the 'format' for the emails I'll be sending… for what it's worth :)