Alright, in honor of the great successes brought about by Jason Mitchener's question before, a few more funny blog posts! (It may not be funny, it may simply be ironic what this Worm has done ;))
So on to our question of – Who is Craig Martin?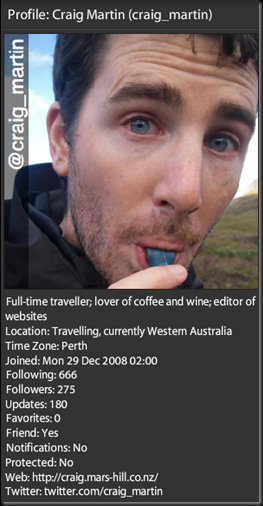 Which is a pretty good question, he appears to be a traveler and a Kiwi – I love Kiwi's, especially with Strawberry!
Well, for one thing by the look of his website he's a pretty busy guy out wining and dining err wining.
He's an editor of websites, so I'd suggest checking out his (various) sites, because from his main site alone, wow! Looks good to me! Very structured especially inlight of others trying to do similar and only inducing chaos. I also think it's cute how he says "zed" in his little video, not to mention that he has a whole introduction and video going on – while sitting in a beautiful garden!
He's a traveler, adventurer, Ninja. Okay, maybe he's not a traveler, but he is a hardcore ninja, the likes of which you could only counteract with Pirates.
So, be sure to follow @craig_martin and check him out, he's great and apparently with his following of 666 followers he's in lieu with the devil so help break him from that habit! ;)
Oh, and he's very friendly so check him out! :)