I'm sure by now you've read the VERY good articles about the VNXe such as:
Well, as typically promised.. here is my EXPOSE' Or however you want to look at it, because I try to see these things through your ever careful eyes to wonder behind the scenes just EXACTLY what may be going on!
Disclaimer: I'm not sure how much of this I'm supposed to share, so I'll deal with the fall-out and you enjoy the content :)
Let's Get Physical [Physical Specifications]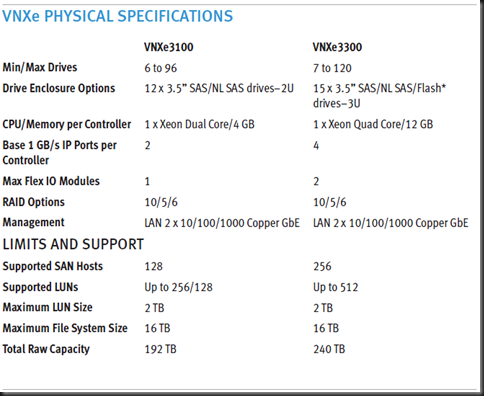 This looks pretty straight forward – It's VERY clear on exactly what is going on with these systems (Well, sort of)  I want to draw your attention to a few things so we'll all be on the same page!  
Note the different drive enclosures between the VNXe3100 and the VNXe3300 – 12×3.5" in 2U and 15×3.5" in 3U
The CPU/Memory is PER Controller with each model able to support up to 2 controllers [VNXe3300 is 2 controllers by default]
It's not covered in these Physical Specifications; but I feel it important to call out Max # of drives and DAEs

VNXe3100 Single Controller 48 drives, VNXe3100 Dual Controller 96 drives; VNXe3300 120 drives
Are you Flexible? [FLEX IO Module Options]

Also fairly straight forward right! – Only thing I'd like to point out is the support for 10GBe on the VNXe3300!
It's a DISK DAE! [Supported disk Add-on Enclosures (DAES) – Supported Disk Drives]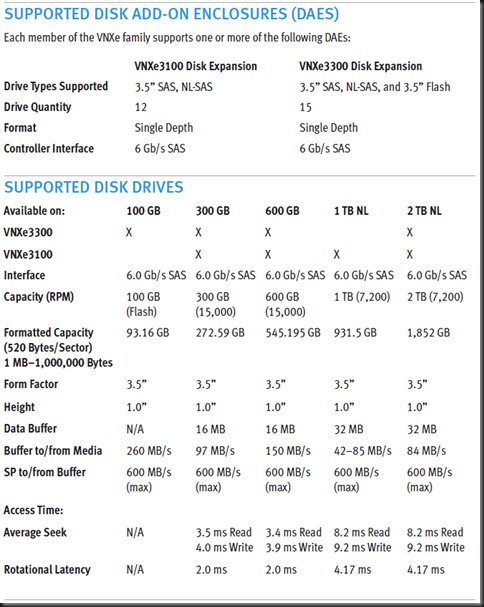 Here it breaks it down for you, the differences between the DAEs available (You'll note that these are all 15K or 7.2K [other than the Flash] – The VNX has a 2.5" DAE which supports 10K drives but not in the VNXe – Just so you don't go "whoa! Where are the 10Ks at?!" :))   – There are more details and more located in the Specification Sheet: EMC VNXe Series Unified Storage Systems
Save More with Packaging! [EMC VNXe Series Software Packs]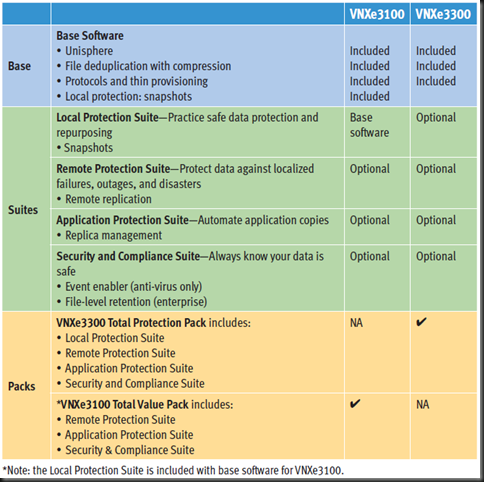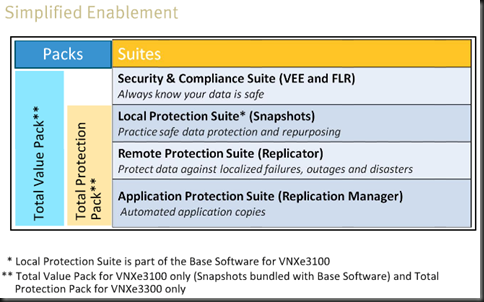 I spent some time last week going through simulations on cost benefit analysis (blah blah blah) of building configurations with the Suites (and packs) and with simply requesting each item on their own – to see what the pricing would look like: Truth be told; OMG THE PACKAGES WORK – It's actually EASIER to simply choose a suite than it is to play games and say "I'd only like the potatoes but please leave out the application protection suite"  So, make it easier on yourself and try to build the full package into your future instead of trying to piecemeal together a configuration and a solution, your data will be happier for it! :)   There are more details on these packages in the Data Sheet: EMC VNXe Series Software Packs
Hopefully this helps you get a better understanding of some of the details you frankly REALLY want to know when it comes to understanding this platform a little better.    If you're looking to go even deeper, let me know and I'll take the conversation there in a future blog post!    Thanks! Hope you find this useful!
Here are some rocking VNXe documents!   (Powerlink required – If any links do not work… Yea, I wasn't supposed to share that then :))