I recently was given insight into something which was up and coming (and well, clearly out at this point :)) The EMC Unified Storage Community!
What is this community though?  This is the mother load so to speak, YOUR source for Information in the Unified… and it's available without a login! (Although I encourage a login so you can partake in questions, answers and more!)   So, let's take this opportunity to take a little tour!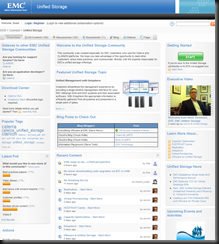 If you look at this massive page with so much to offer… it happens to break it ALL down for you with one key point to start with! – Notice on the right side of the screen..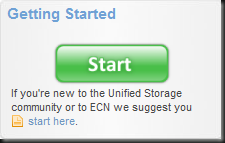 Wow, does this take all of the effort out of it! Making it so you can get started quick and easy! here are some details!
Getting Started in the Unified Storage community

VERSION 7 

Created on: Aug 16, 2010 3:51 PM by cornwk – Last Modified:  Sep 1, 2010 10:30 AM by cornwk

Thank you for visiting the Unified Storage community.

We hope you will be an active, participating member. But if you just want to view information only, that's OK too.

Here are some suggestions for how you can get started in this community:

To make sure that you can fully participate in this community, be sure to Login (or Register if this is your first visit to ECN).
Click Login/Register at the top of the screen in the area that looks like this:

In the Unified Storage community, visit Breaking the Ice and tell us a little bit about yourself.
Scan the current discussions and jump in – post a new discussion of your own or respond to somebody else's question.
Have fun!

If this is your first venture into ECN, visit the Quick Tour and learn how to put the communities to work for you!

75 Views Tags: midrange_storage , community , getting_started , welcome
What I particularly like about this Community though, is the fact that is it organic… driven by the community FOR the community!   It's young right now (hey, it just launched!) and it will only continue to mature!   And I particularly want to thank the infamous
 @kcornwall for everything she did to make this a reality and to continue driving this forward!
Now, while it may all be relative because content changes regularly… the current threads out there are WOW ON TARGET! To things I see come up in meetings practically every day  – so I wanted to bring specific light and clarity to them!
Every time I sit down with folks and we discuss Celerra, CLARiiON, and the whole of the Unified stack… they say "I want to know more information about…." and the …. is ALL of these threads!
So, without further adieu, here are some of the hot links here in the community to get you going!
Obviously I advise you to defer to the actual community for new content and more! but I thought I'd high-light what are often heavily discussed items where people say "Hey! I want more info on this!" Not that I'm saying anyone in particular (hi mike! :)) Should check these out, but if you find these useful, and/or your name is Mike… Definitely check it out!
Oh, and if you're looking into downloading the UBER VSA which I've referenced in the past … Definitely here is the link to v3.2! Your best friend in virtualization!
Play it again, Sam: Celerra UBER v3.2
Thanks guys, check out the community… grow, and learn, question and learn…. and communitize yourselves!