What a day, what a day! This event was particularly Wow! Our good friends at New Horizons in Kansas City, KS really know how to throw a party! Well, not a party per se, more of a comprehensive training event which turned out a considerable amount of people, over 400!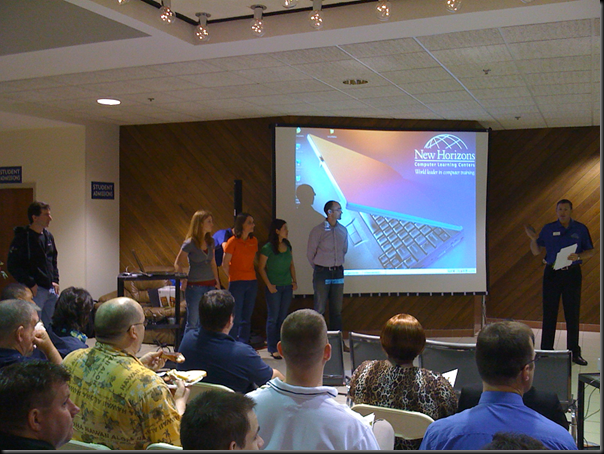 Here the New Horizons Kansas City folks introduce the MSLearning team as they kick off the events of the afternoon!
Joanne delivers a presentation on Certification 101, all the details you need to know about the Microsoft Certification tracks and what to expect. The halls were overflowing with people as they watched attentively to the presentation being delivered. After Joanne was finished, Liberty delivered an indepth overview of what actually goes on in the creation and delivery of the certification exams which we eventually end up taking.
Attentions were rife, and seats were filled, not to mention the really cool mirrored ceiling which looked good enough for this Flag photo I was able to get here!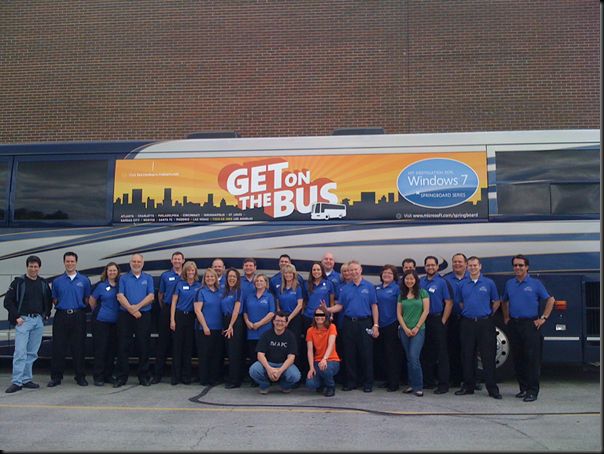 The organization which appeared to go into this event definitely paid off as the numbers of people in attendance was absolutely awe inspiring. Tjeerd delivered what is quite possibly not only the best presentation on Windows 7, but also one of the most fun and exciting deliveries of it to be seen, the likes of which would have Steve Balmer jealous as he really got the audience engaged and excited about Windows 7!
Thanks New Horizons Kansas City for allowing us to partake in your wonderful event and being such great hosts while we visited here in Kansas City! Be sure to follow them on twitter @nhkc
We're on the road again with an all night trip out to Denver, CO now – So, see you in the morning and more details as the wheels on the bus go a-rolling!