If you're one of those folks who likes to bleed themselves, or just stay on the bleeding edge. You ought to check out TweetDeck v0.20.6b But this more than just this specific update, it is about TweetDeck in general, a guide of its use and also where to pull regular Releases as well as Beta Interim Updates.
For the unfamiliar, TweetDeck is a GUI Interface to manage your Twitter "tweets".
There are a number of benefits that the client provides over using the web to access Twitter.


This little icon brings up your Tweet window, to allow you to tweet messages.


This little drop down under "Shorten" allows you to choose your favorite web shortener in order to shrink your URL's. If you happen to tweet a lot of content in your 140 characters, you may wan to choose something smaller, such as "zi.ma" or "is.gd" as opposed to "tinyurl" which tends to eat up a majority of your characters!

Also this little gem lets you post/upload a picture to TwitPic and have it tweet it for you right there!
This next little item

helps you manage your conversations as you see them on Twitter!

What you can do then is click on the "+" on a user and add them to one of your groups!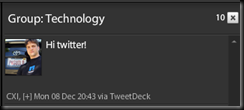 In all, it's really that simple to manage out your users, groups and beyond!
Though if it starts to get unbearable in your groups, you can filter with

And that covers the bulk of it! Enough to get you started and rolling with TweetDeck, Twitter and managing your users and self so you can have a reasonable experience as you grow!
Feel free to follow me if you're not already on twitter @CXI