On the one hand it is that time of the year again. On the other hand OMG the changes to the #vExpert Program this year are well worth mentioning!!!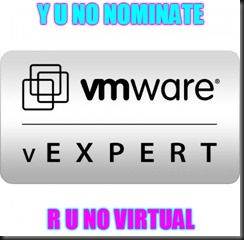 All of the scoop and the details can be found here at the official VMware Blog; vExpert 2014 applications are open
And not only is the program proceeding as it had in the past, with the various details I've shared in a previous blog post; The Non-definitive guide to the VMware vExpert Program, Tips, Tricks, How to become a vExpert!   But also taking a page out of the Microsoft MVP Programs book, the vExpert program has changed to support quarterly nominations instead of yearly!
The second change is quarterly nominations into the 2014 vExpert program. We will leave the application open year round and at the end of each quarter we will begin the voting process for new vExperts from the previous quarter. So even if you are not picked to become a vExpert 2014 right away, we will allow for quarterly voting and nominations.
Pretty awesome, right?!?
So what does this mean?!? The first question you have to ask yourself is; Are you vExpert material.  Also along the same token you have to ask "Do I know someone who is vExpert material and I'd like to nominate"   The vExpert Program is still broken down into paths of Evangelist, Customer and Partner so the options are multiple and valuable.   When it comes to providing feedback and being supportive of the community refer to my guide mentioned above for ways to contribute and just continue being awesome!
For those of you applying to be a vExpert this year, good luck and best to you!