So here I was wondering, "Ooh… I wonder what is on the Agenda for this years VMworld!" only to initially find disappointment, disappointment and sadness.
A search for "VMworld" from my iPad Mini revealed there was one application available for download, I pulled it down 'registered' using it, and well, THAT didn't work, Do not download or use the app which looks like THIS.
I mean, it is cute and all but it does not have any data loaded for the event and will not return the results you are looking for!
But I also noticed that when I went to do the search in the first place that it would auto-fill to "vmworld 2014 us" so I figure, let me try that search not on iPad Only which the iPad defaults to, but instead switching it to iPhone only for apps.. and lo and behold BOOM! The Application I so desire!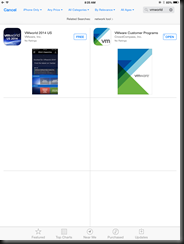 Launching the application was simple, straight forward… okay, it took a little longer than expected but nonetheless it was set and I was ready to rock!
And once you've launched the application it is pretty simple to search around, in fact, log in using the credentials for your VMworld account and you can noy only view your schedule you configured, you can partake in Gameification among other active items! I'll keep it running on my iPhone as I travel about the show to see what other goodies will reveal from it!
So be sure to check it out, oh and don't use the jacked up version like I did initially. Let this be a lesson from you, Don't do what I did. :)