I awoke this morning to check my twitter expecting to see crazy bunnies up to their antics, but instead in my EMC search column, I encountered a search term I had never thought of or even heard of before.   Apparently in this context EMC stands for "Easter, Mother's Day and Christmas" referring to a group of church attendee who apparently only attend Church on those two holidays (and Mother's Day since it falls on a Sunday)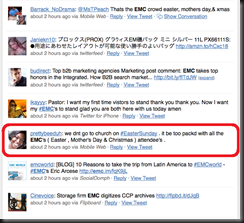 Well, it got me thinking (Hey, I do that occasionally) Why aren't there any Women's holidays?  Now I know you Nay-sayers will say YEA WHAT ABOUT MOTHERS DAY?!?! Yea… Allow me to slightly redirect emphasis on the fact that is dedicated and focused on MOTHERS, not WOMEN.
Even taking it a step further looking at a definition of Mothers Day, I got this;
Mother's Day in the United States is annually held on the second Sunday of May. It celebrates motherhood and it is a time to appreciate mothers and mother figures. Many people give gifts, cards, flowers, candy, a meal in a restaurant or other treats to their mother and mother figures, including grandmothers, great-grandmothers, stepmothers, and foster mothers.
So as you can clearly see… this is for mothers, a matronly focused holiday which doesn't differ much from Father's day but does not focus on WOMEN.
So looking past that, hey we live in a massive nation with a lot of holidays no different than the series of holidays hosted across the world.    Who DOES get a holiday if not women?
New Years get a Holiday, celebrating an entirely new year.
Jesus, or Presents, or Candles get a whole series of holidays in the winter season
Hell, even the moon and sun get their respective holidays depending upon the Solstice in question..
Kids and Candy get holidays with Halloween
Bunnies, Eggs, – Rock it out on Easter!
Dead Presidents of all varieties get a holiday as well as the veterans who have served our country
Wait what's that you say? FLAG DAY? Yes, even FLAGS get a day dedicated to them.
Okay, now you fascists out there are saying "Yea, there aren't any men dedicated holidays" yea… whatever, that's every fricking day so lets seriously not get off on that tangent!
But I know some of you, the sideline folks are going to stand strong, staunchly and supportively say "Yea… What about March 8th – International Women's Day! HAH I GOT YOU!"
Yes indeed you did get me.   You and the other 3 people who have heard of this holiday, yea I know you searched the internet to even FIND that "UN" sanctioned and created "Holiday".   And let me just stand strong for a moment and say, anything that the UN Sanctions and stands for, yea that definitely has a LOT of value here in the US….. No, but seriously, I'm sure more than 90% of you had never even heard about that; which honestly is actually marketed and messed a LOT more outside of the US than it is inside of the US.    Yea but it's a holiday, right?
Did you know that in 2011, we'll call this the year of the women, and account for the US having roughly a 50% Women Population (Call that 150mil for the sake of argument) there were a whole 300 events this year dedicated to "International Women's Day" Yea, great job America way to kick it up a notch.   I think there are more Flag Day related events each year, in each STATE alone let alone across the US than anything recognizing or contributing to the growth and development of Women.
So, while clearly the whole United States is behind this almost non-existent "Event" which occurs, it is up to us as the Internet, the world frankly to really kick it up a notch.  I'm not advocating driving further traction on an otherwise March based holiday (Seriously?! March?!), it is up to all of us to let the women, girls and general female population in our lives know that we love them, we care for them and that they matter; even if there isn't an official "Holiday" promoting that.    Maybe one day there will be a holiday which will gain adoption, drive and initiative behind it, but until then I expect each of you to do your part.