Today was the big day! The launch of the Virtual Computing Environment coalition, also known as the VCE Initiative!

CNN Broke the news as far as the link to the Webinar would go, with announcements being made by:
John Chambers, chairman and CEO for Cisco
Joe Tucci, chairman and CEO for EMC Corp
Paul Maritz, president and CEO for VMware
There has been a lot of chatter about this, over the weekend and even moreso leading into this announcement, with some highlights:

The launch of Privatecloud.com is only the beginning in the mass of places to find out information and content on this amazing initative.
VCE Beats out IBM with Melbourne IT
In unveiling the Virtual Computing Environment coalition, Cisco and EMC also introduced Acadia, a joint venture focused on accelerating customer build-outs of private cloud infrastructures through an end-to-end enablement of service providers and large enterprise customers. Acadia's unique "build, operate, transfer" model for delivering the Vblock architecture, addressing people, process and technology, will offer customers further choice, flexibility and cost advantages as they seek to virtualize their IT infrastructures and evolve to private cloud environments. In addition to Cisco and EMC as the lead investors, the build-out of Acadia's expanded capabilities in 2010 has also been capitalized by investments from VMware and Intel. Because the Vblock architecture relies heavily on Intel Xeon® processors and other Intel data center technology, Intel will join the Acadia effort as a minority investor to facilitate and accelerate customer adoption of the latest Intel technology for servers, storage, and networking.
In fact, many partners – both systems integrators, and service providers have all started lining up behind Vblocks.    Here are just a few examples:

Most of the vCloud Express launch partners are using the VCE coalition, and want to move forward with a formal Vblock model.   Examples are Terremark, Alphawest, Savvis, Orange and SunGard. (Thanks for this Chad!)
Virtual Compute Environment – Vblock Partner Ecosystem
Virtual Compute Announcement – Integrated Sales/Service/Support
Virtual Compute Environment – Solutions Venture and Investment
Virtual Compute Environment – Technology Innovations
Also, looks like there is some Twitter presence too! So, represent! @privatecloudcom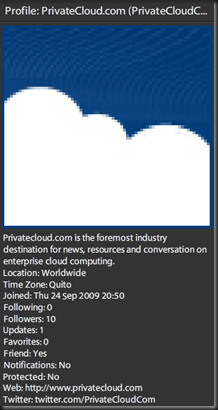 Today, is quite an exciting day, and while all of this is high level, I'd be glad to go into much more depth about this – something I'm sure many of those linked and referenced here can say and do the same.   This is not intended to be a tutorial, but an advisory of what's new, where to go, and I'll have separate blog posts to go into the details :) It's an exciting day! :)