Who can relate to this experience? You're out using your iPhone for whatever reason, perhaps you're jamming away to tunes, sitting on calls all day long, or simply just 'using' it and you find your battery life has severely diminished. I know what you efficiency zealots will say "You know, you can turn off this feature and that feature, and this and that and that! and it'll extend your battery life!" Yea, kthxbye! Seriously. If I'm using my location feature and it's draining my device, turning it off defeats the entire purpose!
Well, inspired by my good friend Louis Gray in his post: How I Stopped Worrying About Powering Up My iPhone 3G I'm writing this because I wanted to make sure those who missed this absolutely amazing-ness, don't miss it!
This is something I've been looking for from Apple for some time, but I never got around to actually trying to search or solve my problem – and now.. now I have, especially as I tend to charge my phone 3-4 times a day from use (Can you say omfg power user? ;))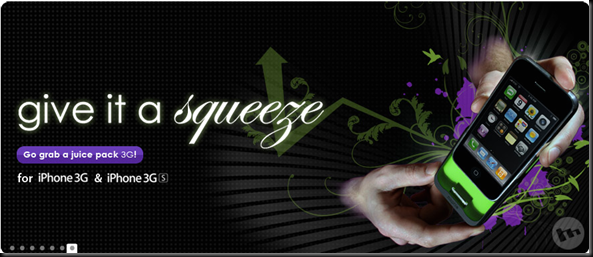 Our good friends at Mophie bring us the Juice Pack and the Juice Pack Air! Not only do they double as power enhancing batteries but they also provide a case for you to use! Considering the scratches on my iPhone and my eventual need to get a case (not to mention how my phone partly cuts into me in its sharp bits… Well, there you go, killing two birds, one apple!)
To add to it, they even have a special twitter promotion available, whereby tweeting something about them, following them – will enter you into a chance to win their Juice Pack Air! a $79.99 value.. I'll take free!
Incase also happens to offer something they call a "Power Slider" but frankly if you look at their website you may have a pain of a time trying to find it as it's not really elevated to the surface in its ease of finding (Had to search to find it, and even then it wasn't so intuitive) Which is likely why Louis and others have to resort to looking for it on Amazon like here Incase Power Slider for iPhone 3G – Black (EC20003).
Now while I personally like the look of the back of this particular device with the little lights as you can see in this image above – I frankly am liking more and more the Mophie Juice pack units already mentioned. But feel pride in knowing when you have a constantly dying iPhone, don't worry about changing your habits as much when you can rely upon an additional power source to aide in whatever you do! So get out there and get yourself some Apple Juice!