Are you one of those people who want to play with Exchange 2010 but you're running out of excuses as to why you can't or won't? Well, here's one more reason to not come up with yet –another- excuse!
Welcome Exchange 2010 to the Microsoft online Virtual Labs!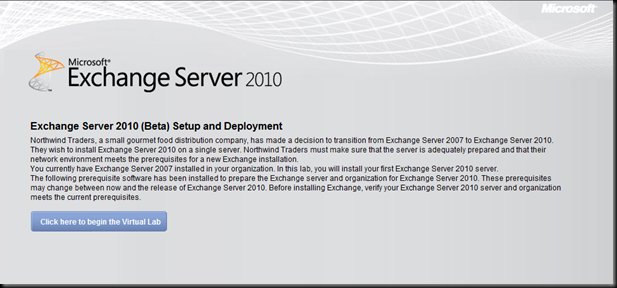 It's literally as simple as clicking "this link" or even the image above and you'll be ready to start playing around with, and installing Exchange 2010!
And ofcourse as always, there is a comprehensive Lab Guide (PDF) which will walk you through the journey, so whether you're intimately familiar or have absolutely no knowledge of Exchange at all, you're in the right place!
So, get in there, and start playing with Exchange 2010, instead of watching videos of it, of waiting until 2013 before you even consider playing with it (grin)