So, Incase you've been missing this whole trend of Free MS Press Books – Here it is again!
And incase you've never seen this pretty logo of it I'll kick off with it.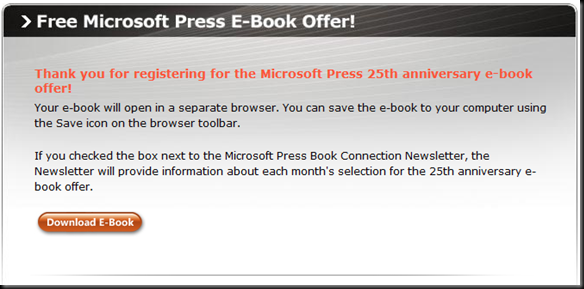 It's literally this simple, go to a page, click a link, and BAM! (after signing in) books downloaded!
What's on the Agenda for late Feb you may ask?
Microsoft Visual C# 2008 Express Edition: Build a Program Now!
By Patrice Pelland
Download here!
Windows Vista Resource Kit, Second Edition
By Mitch Tulloch, Tony Northrup, and Jerry Honeycutt with the Windows Vista Team
Download here!
Be careful about the Vista one, I've been having trouble downloading it, so you may experience that as well.
Also FYI: I download every one of these books not only to make sure the links work, but seriously.. free books? I OWN a number of these books in paper form, and I love digital!
This offer only valid Feb 19th through Feb 25th, so download today!