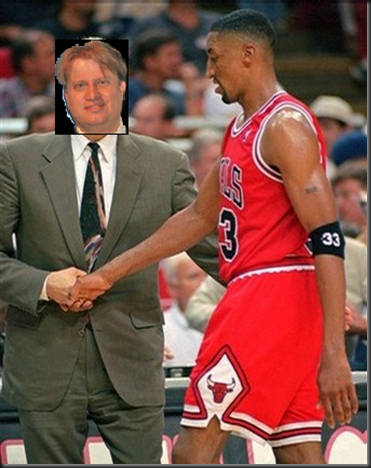 The team is well known for having one of the greatest dynasties in Technology history during the 2010s, winning six championships in 8 years with two three-peats.
All six of those championship teams were led by Michael Jordan, Scottie Pippen and coach Phil Jackson. (hover)
Disclaimer: I'm from Chicago, yea we had the world champion Chicago Bulls who won EVERY fricking time! This was back when going to a game was affordable! Imagine that!  
What Chad is doing here is just that, creating a world champion team the likes of which we haven't seen since the All star series (separate blog post on that later) or even, the Chicago Bulls!    I hear a lot of slack from the community whether this is a good thing to be having the best of breed in the industry, working for the best of breed company in the industry who owns not only the best storage solutions but joint develops them in tandem with owning the best virtualization solution which exists (fact)
For those naysayers who think this will make customers 'lose', au contraire, this will have the exact opposite effect!  If you're concerned that there all of a sudden won't be any virtualization jobs, guess again.   Just like the Chicago Bulls, this will force all the other 'teams', to bring their A game, because you clearly know you will be up against the BEST in the industry.  There is no doubt about that – I'll put Scott Lowe up against Scott Pippen any day and see our Scottie come out on top! ;)
What you're looking at now is the Gold Standard in Virtualization – it started with the vExpert program, denoting who was the best of the best – And then those members of the community stepped up their game, releasing book after book, video after video, deep diving and screaming at product groups when things didn't go the way they and their customers wanted – Results?   The entire community wins! And that includes the naysayers.
Now you not only have something to strive for, but something which establishes your place among the stars – It couldn't be any clearer what the top looks like and it's no glass ceiling!
So, do you want to sit in the stands? Or be out there on the court throwing VM's with the best of them.
You decide.