Welcome to Bring a Friend night at LANTech Training here in beautiful Indianapolis Indiana.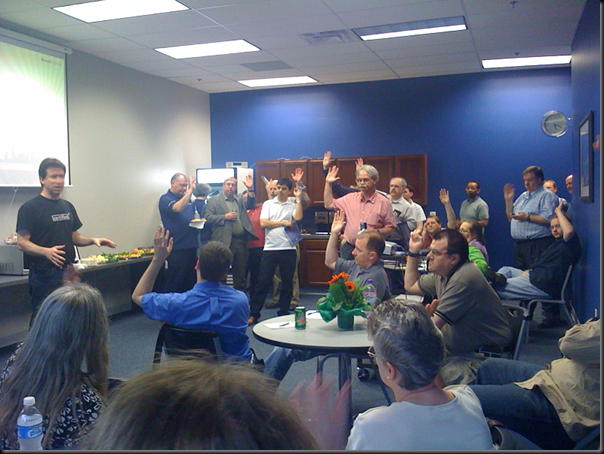 Ken opened this event with not only some great questions, but also some great interaction from the folks there. At Bring a Friend night at LANTech Training, there were a number of people who were new to IT to balance the people who already have careers in Technology. The passion and interest of people looking to take up a career in the IT sector was exhilarating further emphasized by the conversations I had with people really looking to make a change.
While we show an interested group learning all about Windows 7, the real shot came when Ken Rosen provided his insight and perspective on the value of certification when the economy is unstable as well as to help improve and ensure stability in your career.
Everyone loves the Are You Certifiable game and typically walks away from it not only excited about technology, but also learning quite a bit.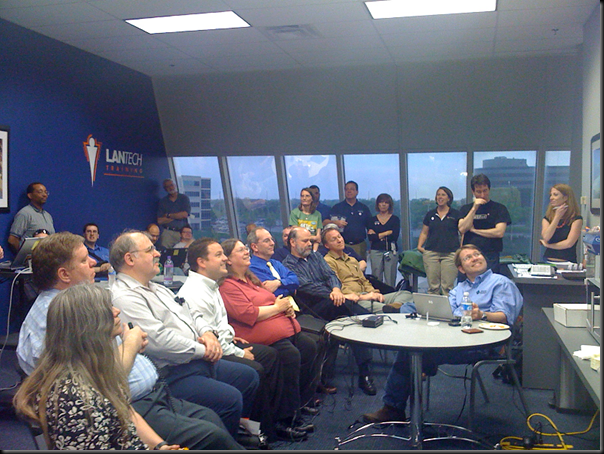 Smiles all around as Chris Rue keeps the excitement in motion while playing AYC!
The line advances while people grab "I'm a PC" pins, Career Express T-Shirts, Certification Vouchers, Are you Certifiable stickers and MCITP Upgrade path fliers.
I had an excellent opportunity to talk with a fellow there who had an awakening hoisted upon him, an ultimatum of sorts, told that he needs to look at a job in Technology by several others.
Events like this one held at LANTech Training, User Groups, and the types of events we've been engaging in while traveling on the Career Express speak directly to that conundrum. Brian Prince said it best with, "Your employer is in control of your job, but you are in control of your career." Think about that. Is your career going where you want it to be? If you make a change now can you get it on track to how you want it to progress? Have you met your goals you've set for yourself over the years (There is no better time than the present to set goals if you haven't already) The time is here, and this is the place to take control of your career, and leave your job up to your employers.