Psst, did you know we're in a recession? Yea, can you imagine that? Now is the time to take every dollar we can from every person just to snake on by, right? Err, no.
No, this is a time to band together, and raise the bar together not only as individuals but more importantly as a community. The Technology community is a particularly strong one, where we reach out and help each other, even in cut-throat situations where we're against each other, we want to help.
Enter the newest innovation in this from Microsoft.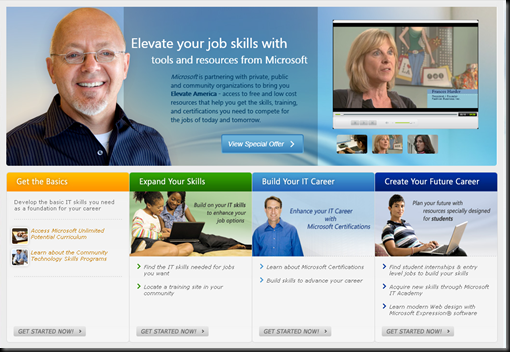 This is just one in a series of Community Investment opportunities which will be announced in the market (and by announced, I mean I will search and track them down and tell you about them :))
This is particularly cool as in the "Basics" section, it has just that – the basics to get someone to be digitally literate. Perfect for those with no current knowledge or minimal knowledge and skill-set in the digital age. An excellent starting point.
I also particularly like this offer, for those trying to be employed or want to remain more relevant in their current positions:

I encourage you to check out all of the resources, whether you're looking for work, currently employed or interested in pursuing a career in technology.
Truly, do yourself a favor and elevate yourself, the free parts certainly hit the right price point!:)