September 4th, 2009 was a beautiful yet fateful Friday.   The sky was clear, lunch was good, and it also happened to be my last day working at NetApp.
Yes, it was my last day at NetApp – breaking up is hard to do, and this was a particularly challenging breakup!
I didn't have the opportunity to send a formal farewell message to folks internally, so this will serve as my farewell (but not goodbye!)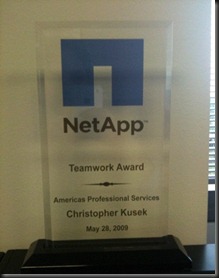 For those of you who don't know, I worked for NetApp in the Chicago District – Yes, this is the very same Chicago district who recently won Teamwork Award across all of the Americas in the hardest Q4 most businesses had to deal with in their entire business!   So, it goes without saying that I had the opportunity of working with a cohesive family which embodied teamwork.
Fortunately, I worked with, met and interacted with so many intelligent and passionate individuals, the entire experience of working for Fortune magazine's #1 best company to work for was an absolutely great, engaging and rewarding experience like no other.    In the short time (2 years) I was with NetApp I have seen extraordinary change, the ecosystem of business and the economy go on a rollercoaster adventure.   Never once did these individuals stray, but instead stepped up to the occasion and became better for their actions.   I know in my stead, this trend will continue and I look forward to seeing the growth within the community over the passage of time.
So, while I will miss you all – this is only farewell, but not goodbye.  Fortunately the community we're all a part of is a receptive and growing one.  Our paths will cross continually and growth and self-development will always be an agenda we all pursue.   My community involvement will not shrink, and likely will continue to increase.  And my communication back out of offers to the technology community as a whole (whether those be discount vouchers, opportunities, so on and so forth) will continue to flow like a tapped pool of knowledge!
I'm sure given the circumstance many of you may be interested in why I made this particular decision.   Know that through heavy calculation, this was chosen as the best decision for me and my family at this particular stage in my life, and is in no way a reflection of the absolutely amazing organization I am walking away from to the equally amazing organization I am going towards.  
I am particularly excited about the new role I will starting on September 14th, 2009 (My Birthday of all days!)   Yes, while this may read as though it is a rebirth; starting a new job on my birthday, I will be certain to bring the same level of passion, engagement and enthusiasm that every one of you who has ever met me is likely to recall. :)
The next chapter of my life will be living the rock star life of a Senior Technology Consultant at EMC, continuing my trend of raising awareness, education, doing the right thing, evangelizing and informing the Enterprise IT community.     I know what you're saying "Wow Christopher, you've held one consulting role or another for the past 20 years" Damn straight skippy! A consultant is strangely what I grew up knowing and being, and the evangelist side of things is just a further extension of my adopted religion (Re: Facebook Religion status is listed as Technology:))
I will continue to be actively involved in giving back to various technology communities.   Within the Exchange community (there'll be more to say on that soon ;)), within the Chicago Microsoft space in general (Chicago Windows Users Group), the global Microsoft space (TechEd) and the Training Community (MCT Summits, etc).  I encourage you to reach out to me through any of these avenues, not to mention LinkedIn, Facebook, Twitter, (vouchers ;)) and any number of random Security, Cloud and Virtualization events as they come up! (Oh, email is fine too :))
So, I wish every one of you I've had the opportunity to work with, customers, partners and colleagues alike the best! Do keep in touch and let me know how things are with you, and I'm glad to help in the various ways I can and do help within the community!    And to my future customers, partners and colleagues – I look forward to the opportunity to work with you!
Best of luck, I appreciate all of the encouragement and continue to look for good things from me… :)