If you know me (Sure you do, right!? ;)) you know that I like to find good value which is quick, effective and often and especially free! :)
I'd like to introduce you to Mike Laverick, Virtualization guru extraordinaire! And what Mike has produced here is amazing videos (which you can actually see, since he converted them to SWF/Shockwave files) and not to mention they're human, humourous and even more so, extremely valuable and fast!
Oh, did I mention these videos will also be supplemental to his Book?! (the book isn't out yet, but I'll pick it up as I know how valuable it will be!)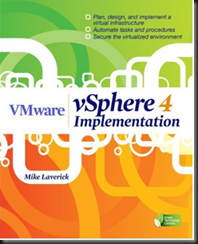 So, I highly encourage you to check this out, if you're familiar with ESX and haven't touched on vSphere yet, if you're a master of VMware and want some good insight and value, and most importantly, even if you've never touched VMware, or virtualization before – You'll get a –lot- out of this! So check it out, this is some of the best content you can pay for – and it's free!