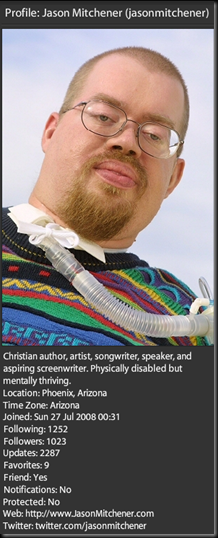 In light of the recent Twitter Phishing Scam Jason asked this very poignant question:
Big question is do people truly believe someone would write a funny blog about them?
Well Jason, the honest to god truth is. Yes, some of us indeed will, especially because YOU asked that question!
So, who is Jason Mitchener? That's a good question, by his Profile it looks like he's a Christian Author, Artist, Songwriter, Speaker, Aspiring Screenwriter – Physically disabled but Mentally thriving. First of all, let me just say. Wow.
That is quite a laundry list of not only accomplishments but aspirations and developments for any living person.
I visited Jason's website JasonMitchener.com to find out more about him and to tell you the truth he sounds like a great person! (Not to mention having a really decent webpage and layout!)
Jason is Confined to an electric wheelchair with a rare form of neuromuscular disease, using a ventilator to breathe.
His body may be confined, but his spirit soars free.
At this point, I want each of you to think for one moment, if you were in a similar position or situation would you have the same level of accomplishments? Now put that to the side and ask yourself, what more you can do with the opportunity which is around you every day.
Jason is a perfect example of – It doesn't matter what cards you're dealt, it is how you play them, and by the looks of it Jason has a full house.
Jason you're an honor and an inspiration to anyone who you might come across in all of the avenues you look to pursue and I'm glad that Twitter is graced with the opportunity for your poignant questions about who'd write a funny blog about them (Even if this isn't funny, but rather insightful! :))
Thanks Jason and welcome to the tweetosphere!