I'll tell you, easily one of my LONGEST subject lines ever! But subject length aside, this is actually pretty awesome!
For those of you who missed this, here's the low down from a blog post I published last October.  EMC Proven Knowledge Sharing Competition – Join Now! Abstracts Due 12NOV #EMCElect
And for what its worth, my marketing director has done an AWESOME coverage of events here Christopher Kusek earns EMC 2015 Knowledge Sharing Award!
So that got it all started… OMG A CONTEST! Well, not even so much as a contest, as it was a raw and heated COMPETITION! What it'd entail initially was submitting an abstract.   And from the Abstract alone you'd be informed whether you'd even be entitled to be ALLOWED to enter the competition.   In my case, my abstract was accepted, awesome.  But then it came down to, "Hey, it's time to submit your paper!" Well, so there I was… writing my paper, and write it I did!   One thing in particular which was *very* cool, is the fact that the "Judges" of the papers have no idea who the authors are.  No, it's not like they're secluded and don't stay in touch with industry, quite the opposite… They're SHIELDED from who the submitters are, any type of information is shielded from them, and instead they're judging the papers based upon the content and not the character of the authors!
Which ultimately is what brought me to this years 2015 EMC World!   I had been informed that I was a "finalist" which means, I'd be 1st, 2nd, 3rd or one of the Best of Tracks… All very secretive, all I knew was, "I WAS IN" I just didn't know what position or place!
That is when it all fell into place! My name called, giving me the absolute honor of "Best of IT Transformation" it was an absolute blast to all happen at once!   Due to the power of… VideoLinkFail you can skip ahead to 16:45 and get to my part of the video :)  Otherwise watch it all the way through, it gives an interesting take and shares information on the EMC Proven Education Ecosystem!
That wasn't even the half of it though! When I wasn't on stage wearing horribly uncomfortably shoes (which looked great mind you!) and receiving an award… LOOK AT THAT THING! ITS 8LBS OF CRYSTAL!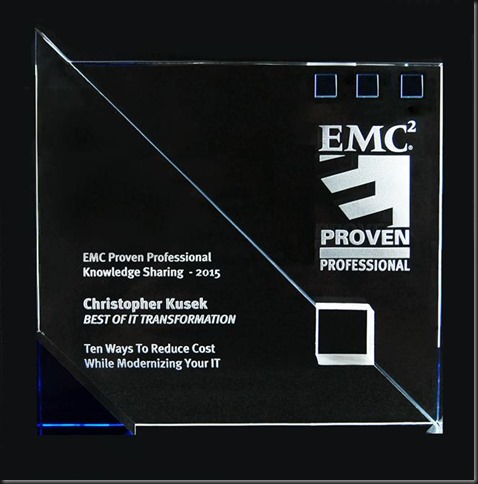 I was spending the bulk of my time ON CAMERA giving individual interviews or group interviews or this and that!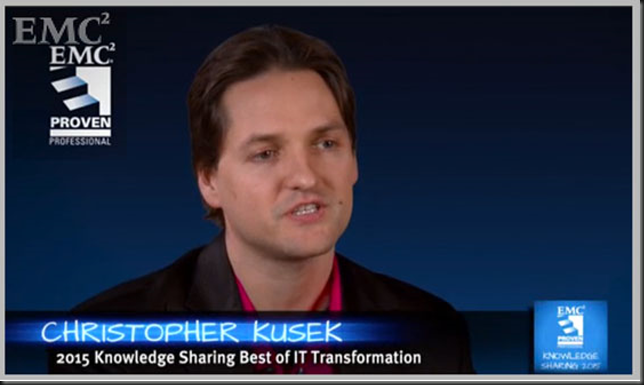 But some of you are saying, "You know what? I don't give a damn about any of that! Show me the money! err, Paper, I MEAN THE PAPER!"
That's cool, totally respect that… :) Well, here are some links and copies of the paper!
Because I'm obviously a marketing whore (go me, right! :)) There's also the Xiologix branded version which I actually like how it is formatted better… (Primarily because… I formatted it to make sure data presents on pages the way I prefer from having written a thing or two here and there!) so here are some links to BOTH versions! <3
Read Xiologix Version: Ten ways to reduce cost while modernizing your IT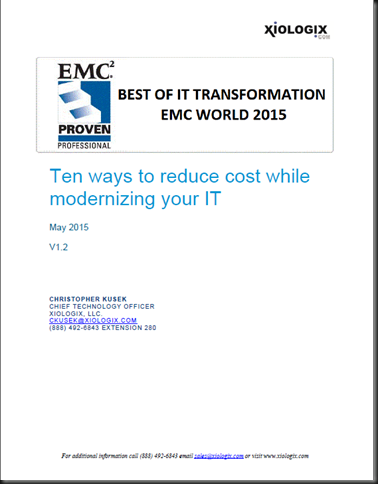 Read EMC Version:
Ten ways to reduce cost while modernizing your IT
To follow-up on updates to this presentation and other information around be sure to check out the updated page at our Xiologix site where we're keeping it updated and current! Christopher Kusek earns EMC 2015 Knowledge Sharing Award!
Also there is a Presentation version of this paper which has been delivered to standing room only audiences across the Pacific Northwest (also regular sitting rooms of folks :)) So if you're interested definitely reach out <3 :)
Keep on keeping on!