This is the contest which is a pre-requisite to compete in the "Get On The Bus" contest!
Here is a basic walk-through of the game!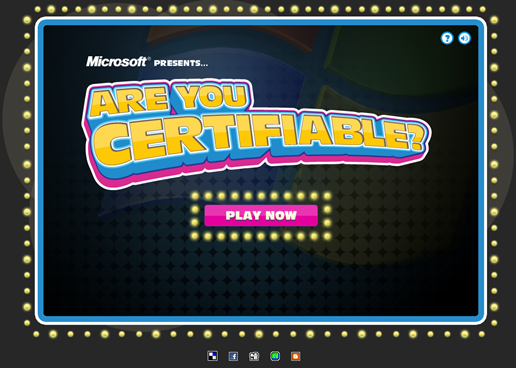 After using your Live login credentials, login and you're ready to play!
You'll be set to play and in my case, welcomed back showing your current achievements!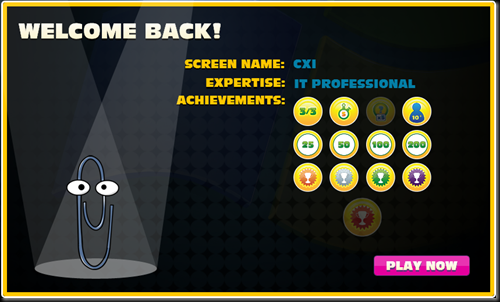 I'll breakdown what each of these achievements are, what they mean and how to get them!
Triple Threat:
Correctly answer 3 questions in a row
Speed Demon:
Answer a question right in less than 5 seconds without using a voucher
Voucher Saver:
Finish a whole episode with at least 5 vouchers left
Socialite:
Have at least 10 people in your friends list
Academic Achievement:
Answer a total of 25 questions correctly
Intellectual Achievement:
Answer a total of 50 questions correctly
Brainy Achievement:
Answer a total of 100 questions correctly
Gifted Achievement:
Answer a total of 200 questions correctly
Rookie Achievement:
Complete a full episode
Newton Achievement:
Complete a full season
Einstein Achievement:
Complete the entire IT Professional set of questions
Turing Achievement:
Complete the entire IT Developer set of questions
Certifiable Achievement:
Complete all of "ARE YOU CERTIFIABLE"
Quick Draw:
You are answering questions at lightning speed
Congratulations:
You have earned vouchers in all 3 mini games
Congratulations:
You got 10 questions in a row correct
And you may notice that some of these are Greyed out – Seriously, how on earth you get "5 vouchers" in an episode, let alone having vouchers left is beyond me! The max I've gotten is 4 vouchers and that is with getting all answers correctly in 1 or less seconds! So I have NO idea what you do there!
Then you play the game, and you get a score like this! and you're set for the contest!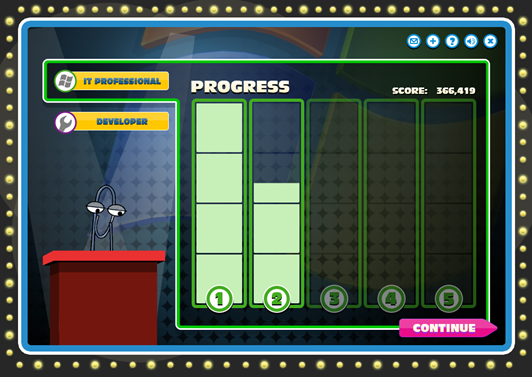 Good luck out there, I encourage you to ACT NOW! Before Monday when the contest closes! If you have any questions let me know!