Hey guys! I bet you're wondering the very same thing a lot of people wonder.  And chances are you did a search (as I had in the past) with the very same query as this title.   And chances are.. you'd end up with a page filled with OMFG irrelevant data, when all you want to know is; WILL ORANGE CABLE DO 10G, WHY ARE ALL MY CABLES BLUE NOW?!'  Etc.. :)
So, in the effort of full disclosure and thanks to my good friend Stuart Miniman, I'm publishing this post here, containing everything you actually care about!
Published in this lovely slide share; Converged Networks: FCoE, iSCSI and the Future of Storage Networking is a beautiful slide like this, but the real core and important bit is.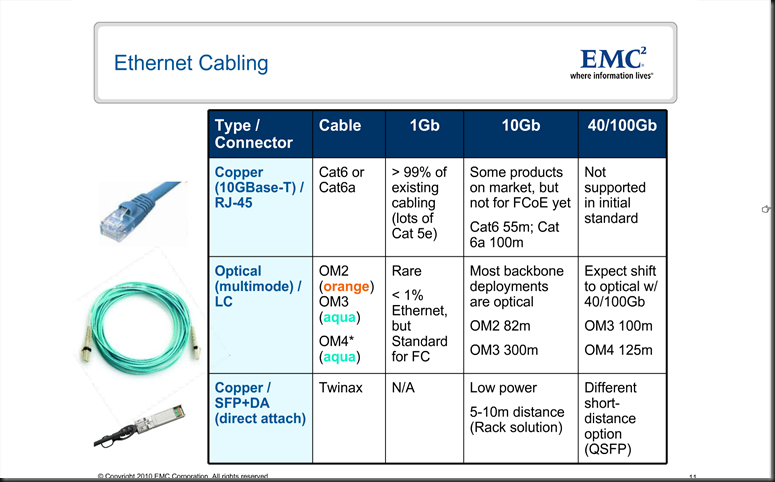 Orange Fiber Cable DOES 10g, but only up to 82m
Blue (Aqua) Fiber Cable is ALSO 10g, at lengths of up to 300m
By the looks of things though, when it comes to the days of 40g or 100g, Orange cable will not exactly be your best friend in those scenarios; a good problem to have at that point.
So, when you're going through your datacenter and doing short-haul in a cabinet and saying "doh! we need to rip out all of this orange so we can to 10g".. Don't.   If you're running long haul or to a cabinet pretty far away, sure make sure it's blue all day long but you will be fine in the short term if you're doing short runs.
Hopefully you found this useful (let me know if so) because I'm sick and tired of trying to remember what this is and end up at a million pages telling me EVERY detail but this! :)