I sure do say Wow a lot, but seriously, do I not have an infinite number of reasons to?! :)   Today in particular was a heavy and hectic one! (One in which involved a lot less photos being taken in general!)    But that is solely driven just on the sole fact of SO much going on! If you're here in attendance at EMC World 2010, I hope you're having as good of a time as I am! (I'm certainly having my fair share of busy times! :))
My day actually started off a little similar and yet extremely different than everyone else's!  Not only did I get to take in Joe Tucci's keynote, but in the final moments of his speech and presentation, as the clock ticked past 10:30AM, I was no longer under marching orders which entitled me to deliver this blog post!  EMC and AOL use VPLEX to reduce complexity in migrations, eliminating downtime!  What a way to start off the day, right?!
I was able to get that published, online and out to you guys from the amazing Bloggers lounge, where I had the great honor of finally meeting so many of my peers, good friends, colleagues and industry champions!    I'm not sure I have the power in me to even be able to reference even half of the folks of you… so feel free to make yourselves known:)
Knowing I had matters to attend to, I headed out from the Bloggers lounge over to the Partner Pavilion, a man on a mission as I was.. to visit my good friends at Brocade :)    It was at this point I finally got to officially meet in person the lord master, @charleshood of the infamous blog Welcome to my valve on the series of tubes.  Charles is quite a dynamic character, great guy and an absolute gentleman!  
So, other than Charles playing with my iPad (or that might be his.. I honestly forget.. doesn't matter, right?! :))  As I was curious to talk to one of their masters of the IP stack solutions which Brocade brings to bear, I had the amazing opportunity to meet my new best friend from Brocade, Seth Fiermonti!  Watch the video to see Seth take me and your on a whirlwind tour of the NetIron MLX-16 IP switch from Brocade (all the benefit of Foundry with the honor of the Brocade name! :))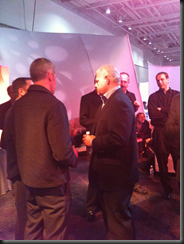 The time was however on… to take a trip back over to the Bloggers lounge… I did tour about a bit, visit a session.. and then came back down to catch this random glimpse of my best friend and honorable executive, Joe Tucci!   While I didn't have the opportunity to shake Joe's hand, I do have the honor of him understanding and respecting what we do as bloggers :)
After this point, it was time to head back out to the Pavilion floor to show all of the wonderful Sponsors, Partners and more that we truly appreciate them being there.. by taking their SWAG! :)
Check out these sexy new VMware stickers, they're not only sweet! (No, they're not pink.. but that's the photo I took.. me thinks you ought to deal with that! :))  And one of the best ways to deal with this, is by watching @mrdenny compete to provision storage using the SMC for the VMAX – And realizing.. wow, it really IS EASY to win prizes! :)
But hands down, the best of the best is the photo of my fellow TC on the right there, Greg.  He said this (unprompted) which forced me to not only take his photo, but to share his quote :)
"This is what I envision heaven being like".  And if you were there in that particular area, you'd find it to be sooooo true! Both from the stand point of how bright, lively and airy that section is, but equally taking other undertones of the premise of the Cloud giving you that ultimate kind of Nirvana, whereby… your future is heavenly! (and no, not because you're dead. ;))
After this point, we headed off to the House of Blues for the Brocade event, where there were literally casts of thousands in attendance! The event itself was amazing, great, my feet are DIEING! My phone was low as it was, and the subsequent battery death resulted in fewer photos. :)  Perhaps my phone will last longer here on Day 2, so I'll have the opportunity to share more with you :)
I hope if you're attending you are having a great time! If you're not, hunt me down and I'll be sure you get the most out of this experience, whether it be through meeting who you need to meet, learning what you need to learn, and solving what you need to solve!   Rock on everyone, and ready for another raucous EMC World Day 2 coming soon!