Happy Fathers Day to me! I got one of the coolest gifts you can imagine! That's right! USB Rechargeable batteries! When you're as hard to shop for as I happen to be… finding something I'll enjoy that I don't already own is nearly impossible, but that task was accomplished with this! (Yes I know Fathers Day isn't for a few weeks, but we're celebrating early this year!)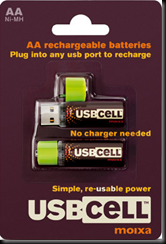 Part of what makes this so cool is it's sheer portability! I don't know about you, but I have a number of devices I carry with me which use AA Batteries (or batteries in general) and having to carry a charger is quite lame, let alone the fact that they tend to explode in their chargers.
Problem no more though! So I want to thank the folks of USBCell and Moixa for this, oh and thanks to Emily for thinking of this gift idea to give to me! :)
TEASER Alert!
It also looks like they're creating some new devices.. AAA, C/D, 9V and Phone/Device batteries! So be on the look out for the other stuff which is so often running out of juice! :)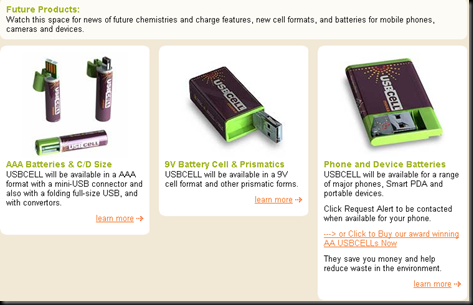 97i8crwrc4