Special thanks to Trika! for pointing out the brand new Microsoft Beta Exam Blog!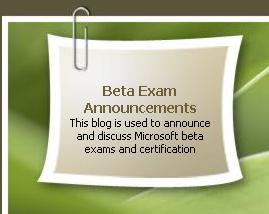 I've linked this over in my "Microsoft Links" on the side as well, as I'll reference and check this blog on a regular basis, in addition to checking other blogs, Trika and GerryO's blog, as well as manual scouring of the Prometric site for new entries which meet "Beta" criteria!
And for those of you SBS folks in the world, there is whisper of a coming SBS 2008 exam!
In other news, I expect to have additional post-mortems, completely obfuscated on all the other beta exams which happen out there!
Keep Posted!