I'm sure you've seen my post here: $25 Certification Exam – Expires June 30th, 2009! (NA Only) or Prometric wants you Microsoft Certified by June 30th! oh and Clicking this link might save a life, Seriously – So based around these very points, let me change it a little bit and tell you that *I* want you to get certified before June 30th!
Why do I want you to get certified? There's never been a better time! The opportunity is here now, launch upon it! I have these pretty green vouchers with Discount Codes entitling you to take an exam for $100 off of the exam, that's right! The exam will only cost you $25 to take! And it has Second Shot built in to the voucher, which means if you do not pass the exam for whatever reason, you can use the same number to take your exam again for $0!
So, if I do the math correctly…
| | | | | |
| --- | --- | --- | --- | --- |
| Exam Cost | Failure Cost | Voucher Cost | Voucher to use cost | Benefit to you |
| $125 | $125 | $0 | $25 | Cert for $25 valued at $250 or the cost of Job Hunting and resume raising! |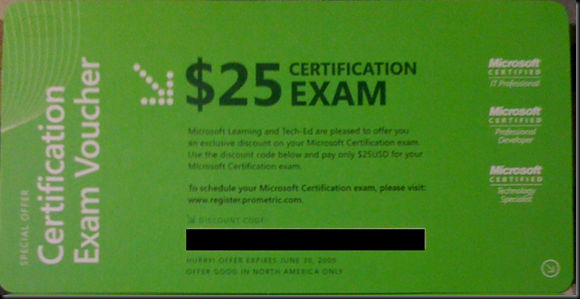 Wow! $25 for the chance to take an exam! Yay! (I've used one of these myself to pass an exam, and the interest in this has been amazing and great!)
I however want to open this up to more than just the people I already know on email, twitter and I meet at User Groups, so are you looking to get Microsoft Certified before June 30th?
There's never been a better time, and let me know.. I'll give vouchers out until I run out of vouchers… or until its June 30th, whichever comes first!
For some additional resources on training as well, I direct you to the following locations!
This is a number of supported, as well as Free Resources, so check them out!



So if you're interested in getting certified, let me know on twitter @cxi, shoot me an email CXI at pkguild.com , or CXI at NetApp.com (Or even leave a comment here, that's fine!)
Good luck, and get certified! Thanks! – CXI :) (North America only: Only around 30 left!)