So, I've talked before about wanting to discuss the communities but not wanting to reveal information which isn't exactly public.. Well, I've found a way to discuss this without an issue!
It's called sadly.. Not logging in :) Yes, it is lame, but it works for me! So on to the communities!
At the high level it looks like this: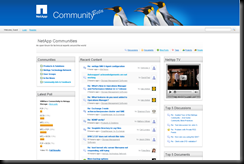 Which if you look around you'll find a communities section with breakouts, Recent Content, NetApp TV and the top 5 discussions, documents and the latest poll!
Down a bit further (out of this section) you find Top participants, tags, recent blog posts and…. twitter!
So drilling down a bit we find this kind of stuff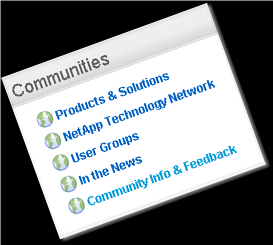 This is a pretty straight-forward area, which provides indepth information for you to ask questions where you'll get responses from both NetApp folks as well as other customers in the field with your same problem, questions or even solutions of their own! We're fortunate to have a number of followers (Internal/External) who monitor and moderate certain forums in order to provide their input into the types of things you'll encounter out there! The number of subjects is numerous and you're always game to discuss any topic under the sun and get some good participation!
Occasionally, you'll see new and updated Polls! Like this one:

It's through polls like this where the user community can speak out about their configurations or situations to get a feel for what others happen to be doing. In this particular poll it shows of the 15 respondants, 40% of them have NFS connectivity to VMware, which is certainly great for those considering NFS and were not sure who else was out there doing it.
And occasionally in the Recent area, you can get an exposure to just some of the types of questions being interactively asked – And who knows, I might even respond ;)

So be sure to check out those communities, check me out while out there as well! I'll see all of the posts even if I'm not actively watching the site and my contact information is scattered there as well as the rest of the internets as a whole ;)
Take care getting your NetApp on and soon I will tell you how to do even more faster and easier with my other really cool planned things :)