Raise your hand if you use Tweetdeck! Yes I know you do, we all do.
You ever sit there and wonder what that little

is up in the control section? A click on it will reveal much excitement to be had!

Simply clicking that little 12 will bring up this prompt: Asking you for your 12seconds.tv creds!
Then, get ready for it, because all of a sudden you have access to Video in Tweetdeck!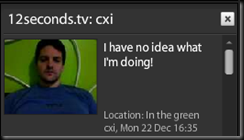 OMFG What is going on here? Why are there videos in Tweet Deck? This is actually kind of cool!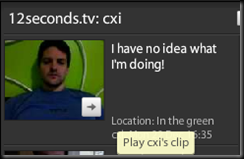 Hovering over it will prompt you to Play the clip, or click the arrow and Whoa! Wait a minute you can RT from here as well?!

RT cxi: 12seconds – http://12seconds.tv/channel/cxi/64782
#Playing in TweetDeck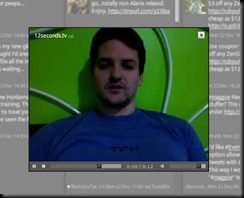 It'll grey out your background while it displays video!
Okay, this all seems a bit weird. I thought we could only interact with each other in 140 character segments (Less in a reply) but now we can suddenly interact in 12 second segments? Sure, you might think 12 seconds doesn't seem like a lot, You say I want more, I want 12 times 12 seconds to get my point across! But seriously, that's Gross But seriously, you can say a lot in 12 seconds and this gets to that point. The first time you'll realize just how long of a time 12 seconds indeed is :)
*I won't even mention the iPhone Application they announced on the 18th! ;*
How cool can this possibly be? Think about it. It's been integrated into Tweetdeck for how long now? And we've never even noticed it? I think it's time we take notice (Especially with the TweetDeck Holiday update coming Dec 24th! hooray! :))
As always you can find me on twitter at @cxi but you can also find me on 12seconds @cxi!
So get out there, give it a try, add me in my shaven and unshaven form and lets celebrate the 12 seconds of christmas together!