If we had to sum up what those days were about, it has to be community.  Break it down with me…
Saturday hit on some major items, such as vBeers, VMworld Community Kickoff, and what followed with vKaraoke!
Sunday added to that with the 5K Fun-run, v0dgeball, the vBrownBag opening acts including the VMUnderground party which started after the VMworld Welcome Reception in the Solutions Exchange.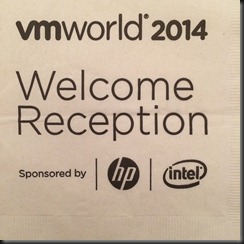 If you attended one or more of these events the underlying theme across all of them has got to be put as Community, the convergence of peoples, whether getting together and sharing a drink, getting to know one another, getting to re-unite with one another, hell even SINGING with one another!
This is truly what these leading on days are all about.   Sessions are not generally available at this point, so this leaves AMPLE opportunity to get to know your fellow VMworldian attendee, whether talking with old friends or meeting entirely new friends.   This day in particular we made a number of new friends which was borne out of conversation with people which lead to friendships being forged and built.   It can be as simple as someone overhearing a conversation you're having about something and adding their two cents or contribution.   Again, this is EXACTLY what the VMworld conference is about (Hint, it is about YOU :))
Hopefully you too got to enjoy some of that time getting to know one another before the onslaught of sessions and so much more happens this week!
As we go throughout the week (and beyond) there will be numerous plans of video recorded interviews, deep dives and general information on some new technologies which are likely to be game changers, and more!  Enjoy and keep keeping virtually on!