Well hello VMworldians, attendees, random friends and foes throughout the interwebbers!   Here is a basic synopsis of the first few non-conference days and what shenanigans went down!    A story like this wouldn't be complete without covering a little bit of what turned out to be days –3 and –2 respectively which were essentially the 'commute' for me.   I realize I've been quoting it as a ~44hr trip, but in all honestly when considering 'local time' and the time I essentially was on my way, consider it this way.. I started my journey to VMworld at 3PM PST (Localtime) on Thursday Aug 22 only to arrive on Saturday Aug 24th at 4PM, so lets chalk that up to a 49hr trip.   Probably one of my worst… but it is what it is/was!
Only to compound matters worse were my shoes MELTING in Dubai, I guess it was hot…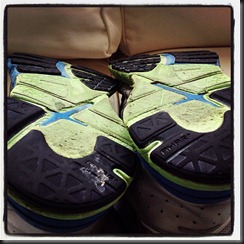 Unfortunately this resulted in nasty blisters on my feet which has effectively turned me into a hobbling mess.   I don't know if I have JetLag because lets be honest… after some ridiculous travel like that… You should be exhausted regardless! So I'm playing all of that by ear!
But let's focus on what's going on with Day 0 and Day –1 … Obviously!    Outside of the standard name tagging and bombs of the Photo variety which sure beats the hell out of incoming rockets! (Though I'm not sure if anyone has ever referred to Josh Liebster (@jlobster) as an incoming rocket before…)
So the Welcome Reception kicked off with a resounding Success!  Cheers to EMC for having a 'Win an iPad mini after every presentation' I mean, if there were ever any better metrics to win something? Those certainly take the cake.   Special props go to the presenter of the session the 5 of us sat through, he was very entertaining, very good at his job of engaging and delivering.   The unfortunate side-effect of that is that after they built up a great story talking about VIPR it fell off after that.    It's like OMG AWESOME+AWESOME=AWESOME == VIPR.  And then don't say a DAMN thing about what VIPR really means beyond some buzzwords, though I hold that against the marketing group who gave them the pitch they were delivering; It has to be more than a slide saying OMG.
As always is the case… Was able to make it ~50 feet at most during the Welcome Reception because the traffic of conversation can be rather encompassing!   But I look forward to visiting various awesome vendors throughout the week, especially some of the smaller ones you likely have never heard of, but should.   
To top the evening off our good friends who run the VMUnderground Party kicked off a pretty awesome event at a very interesting and sizable location, so well props to them and future and further successes to them!   There may be additional stories to share on that… but I won't open Pandora's box yet!
I expect so much more throughout the week, and I'll be meeting with some potentially game-changing vendors and partners to share the awesome that is they have to share.   As always if you're looking for some particular insight, shoot up a flare and I'll personally launch a vendetta to ensure we all walk away more educated. :)
Finally, A few comments…
This isn't the first year I've had to say this, but VMware in their infinite wisdom are all like HEY LETS HAVE VMWORLD IN ONE OF THE MOST EXPENSIVE CITIES IN THE WORLD WITH SOME OF THE FEWEST HOTELS. And then someone else chimes in, "When should we do it? I hear the America's Cup is on until August 30th, lets make sure it overlaps so the already ridiculous priced hotels are even more expensive".   I mean, that HAS to be the conversation because seriously? San Francisco? I talked to someone tonight who's paying $618 a night for their hotel.   Not that ridiculous comes to mind but it'd be cheaper to rent out half of vegas and still host 200 simultaneous conventions while STILL having affordable hotels available.   Not that I'm bitter, I'm here but I'm not worried about *me*.   This is for all of the smaller SMB/SME organizations who need the benefits of Virtualization and a CONFERENCE of virtualization the most.   They're the ones who suffer by the all encompassing high costs of San Francisco for a convention venue.