OMG! It is THAT time of year again! Are you going to EMC World?  This is definitely the MUST attend event of the year!  (Seriously, you have no idea :))
However, my first call to action for you guys.. is to try to make sure you're getting hooked up with the FREEBIES if you know you're going to be going anyway!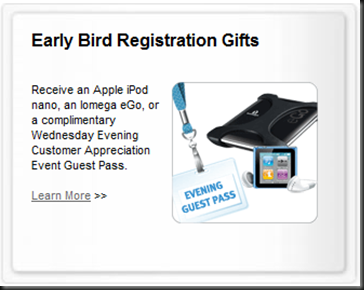 A basic chart breaking down what you're looking at when it comes time to register:
Conference Registration Rates and Breakdowns:
| | | | |
| --- | --- | --- | --- |
| Conference Registration Rates | Price | Valid Starting | Valid Through |
| Early Bird Rate | $1,895 USD with gift | November 9, 2010 | February 28, 2011 |
| Discounted Rate | $1,895 USD | March 1, 2011 | April 11, 2011 |
| Standard Rate | $2,195 USD | April 12, 2011 | May 12, 2011 |
So I decided to take as best of a dive as I could into what these "Special Gifts" are, just to get an idea of what incentive you have to book early (and often?!)
Early Bird Registration Gifts:
Early Bird Registration Gift
Approximate Price
Relative Value
8GB iPod Nano
$149
This is great if you don't have an iPod or want another as a gift!
1TB Iomega eGo Portable
$159
I'm not certain if this is the correct one but the price is retail about this
Could be very useful if you don't have or want another drive (these rock)
Event Guest Pass
$155
Bringing a spouse? (To vegas?! Seriously?!) Invite them to the event!
If you are not bringing another, this is NOT the gift for you!
Booking your hotel:
Within the Venetian Resort you have the option to select your room to be within the Venetian Tower or the Palazzo Tower. Both towers are equal distance to the conference center. To secure a special conference rate be sure to reference EMC World if you chose to make a phone reservation. All room blocks expire on April 14, 2011.
The Venetian
The Palazzo
Rate: $179.00 + tax
Phone: 866.659.9643 or 702.414.1000
Online Booking
Rate: $179.00 + tax
Phone: 866.659.9643 or 702.414.1000
Online Booking
I cannot emphasize enough because I know a lot of you guys… wait until the day OF the show to book your hotel rooms :)   All Room blocks (at these two hotels) will expire on April 14th, 2011 for this rate.   So just take that to heart when it comes time to book and buy your tickets :)
This is going to be quite the OMG WTF AMAZING EMC World on record, far greater than you can imagine.  And it will ALSO be in Vegas, so if that means a lot to you, further mad crazy times – But in all seriousness, the type of content, the audience, the community, EVERY instance of the value which will come from this event.. this is a MUST attend EMC World.  You think records were broken at our Launch Event on January 18th?  Well, you haven't seen nothing yet? (Is that grammatically correct?!? :))
What, who, why, Justify to my boss! –
What – (2011 Conference Topics and beyond!)
Backup, Recovery and Archiving
Business Continuity and Disaster Recovery
Cloud Computing
Content Management and Archiving
Enterprise Applications and Databases
Mainframe Platforms
Partner Solutions
Security and Compliance
Storage and IT Management
Technology Directions and Innovation
Tiered Storage and Automation
Virtual Infrastructure
Yes, I know the conference topics have not been announced yet (Or else I would be citing them) But as an insider [ooh!] I know some guys delivering some GREAT sessions this year!  I haven't planned to slate myself for anything, I'm tied up with other conferences.. and will be busy attending the show instead of presenting [well, and covering the show for the Media] but feel free to come by and talk ;)

Who – (Meet, Greet, Network, Learn)
Learn directly from EMC engineers, customers, and partners at 500+ breakout sessions. EMC World's comprehensive agenda includes keynotes, lectures, live demonstrations, hands-on workshops, and birds-of-a-feather sessions.
Did I mention I'm going to be there?! :) And definitely seek me out and I can hook you up with other like-minded individuals, or others who are either doing what you WANT to do, or have already done it and you can share best practices (No, not marketing fluff, but actual real customers, engineers and beyond, networking seeds networking! :))
Why – (Content, Content, Content)
Challenge your expertise with offerings including tutorials, business tracks, technical training, and developer sessions ranging from novice to expert.
Are you a novice looking to seed your knowledge? Excellent.  Are you an expert, guru, ninja, and you find that no one understands you? Go yell at engineers! (That's what I do ;))   This is the perfect opportunity whether you're at the top of your game or just getting involved in the industry.   No stone unturned, you will be able to enhance your knowledge, take things to a new level and become an even greater champion than you already are today! (Champions ARE made just by attending EMC World)  Literally, seek me out and I'll make sure you're getting the MOST out of your entire experience – I do it at every show I attend. ;)
Justify to my boss – (Whoa, this is in Vegas, my boss won't approve that!)
I haven't seen an official write up 'slick' on this yet, so I am writing this FOR you.  I've had to do this in the past for past events (VMworld, Microsoft TechEd, Past EMC Worlds, TEC, etc)   You go to your management and you scream "I want to learn, I want to educate myself in order to better drive value into the environment, I need to network with my peers, and see the up and coming and be PART of the future instead of waiting for us to eventually get there".   Yea, but this is what your management sees. "Jim wants to go to Vegas for a week, blah blah blah conference"  
Do you find yourself in this situation?  If so, let me know (And let others know) I'll try to make sure you have the right resources to help PROVE this out in your environment.  Whether you're an EMC Customer today, or one in the future; this will be the value of a life time.   If you spent the entire time in sessions never meeting a single person you will gain benefit and an experience which will pay dividends in your home environment; step outside that shell a little bit and all of a sudden you will become a champion unlike that you'll ever have seen!  
Do not hesitate to educate! I'll personally call your management if you'd like and help them understand the value (I'll get whoever your local account team is involved just to make sure I'm not blindsiding them ;))   But seriously, now is the time to SAVE, as well as to LEARN!   Hop to it!
So, good luck, enjoy and lets all meet up in Vegas for what will be an experience of a life time, this is ground breaking in every possible fashion!