So here we are kicking off the first official day of the IT Grand Prix in Washington DC!     We were supplied with a USB Key with our puzzle, an Internet connection USB card, and a $500 cash card for our incidentals! Our host David Elfassy gave us a 'puzzle' to solve in order to find out which non-profit organization we're going to be going out to help.    Through deductive reasoning, over-thinking the problem, WAAAY OVER THINKING the problem, and some more deductive reasoning… :) We were able to find the non-profit we would be destined to help!
Welcome to KIPP DC!
KIPP DC is a network of high-performing, college-preparatory charter schools in Washington D.C., which serve the city's under-resourced communities. At KIPP DC, there are no shortcuts: outstanding educators, more time in school, a rigorous college-preparatory curriculum, and a strong culture of achievement and support help our students make significant academic gains and continue to excel in high school and college.
But what does that mean to you and me?  They're a business just like yours and anyone else's who suffer many of the same challenges we all do.  And one of those challenges is how to manage the demanding needs of students, faculty and staff, while being able to stay strategic, forward thinking and be proactive instead of merely reacting to the future of computing.    The challenge with Daniel Nerenberg and I on the Red Team were helping them work with, was addressing Application Virtualization.  Our esteemed coopetition fellows Gordon Ryan, Andrew Bettany of the Blue Team are helping with a Windows 7 Deployment strategy and plan.
What do you get when you combine IT Pro's, Non-Profits, Coffee and @cxi?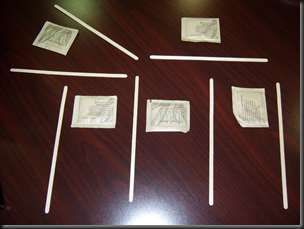 Innovative solutions the likes of which can only be explained with stirrer sticks and sugar packets!    If you know anything about me, you know that I love tactile reference of physical infrastructure, solely for the logic that we have the ability to MOVE objects around (unlike a whiteboard where we end up getting messy… and it's not nearly as cool and impactful)   I felt it might be useful for a layman's explanation of what I just said, so in simple terms…  I like to play with stuff you can find around you :)
The above picture is an architectural breakdown of application virtualization presented to a user use-case environment.   Basically look at it as the sticks are 'boundaries' in the first square picture, that physically shows a single 'machine' with applications living inside of it, with all of the constraints and conflicts which also happen to live within that environment.    However, in the second picture, you have a breakdown of applications virtualized into separate packages, yet there's also a model of shared package layers and abstraction… Lots of abstraction! This video helps explain it a little further!
After our sit down talk and interview with Director of Operations, Edward Han and IT Manager, Adam Roberts we got to work on a plan of how Application Virtualization would help out Kipp DC with their organizational challenges.  
As you can see here, the Blue Team is hard at work.  I'm not sure if they were working on their slides, or checking out some new Chuck Norris statistic, but nonetheless… We all got down to business creating collateral, producing and providing information which would help out those folks and how it would apply (in our case) to what Application Virtualization with App-V could do for them!
I would be remiss in my duty to not share with you what I shared with them.  Use it in the context of your organization of course (as I will not be sharing the incidentals of their organization here! :))
Microsoft's Application Virtualization collateral!
And here are a few videos produced by the folks on Sequencing and actually deploying using App-V (or Softgrid for you legacy folks like me :))
Though I'm sure some of you are saying "Hey, what about VMware ThinApp – Why didn't you talk about that?!"  It's true.   Our mission was to discuss App-V, fortunately I had Daniel with me who is an MVP in App-V too!  However, so you don't feel left out, here are a few videos of Deploying VMware ThinApp from start to finish in 20 minutes! – Enjoy! :)
Following this, we wrapped up for the day, grabbed our (heavy) bags, and headed out to where the Bus would take us to our next destination: Marriott Brooklyn Bridge in New York City!
However, like the geeks we are… All the way at the back of the bus is… a Power Outlet! … Ooh! Two outlets actually! So the guys had their 'friendmaker' power strip multipliers, and we plugged them in, with enough arsenal to run a small business (or even a mid-sized enterprise with the kind of gear we're sporting! :))   And just so you get a good feel for what we're looking at here… I'm sitting in the literal hot seat!   See all the cables? Oh wait, what's that you see? It's 109.5 DEGREES DOWN THERE?!?!? Yea, it's pretty hot at my feet :)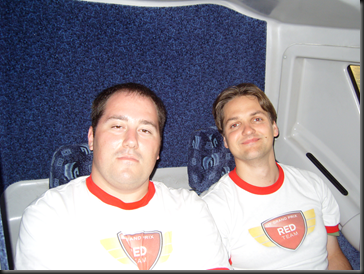 I hope you enjoyed Day 1 – This was only the beginning on this whirlwind adventure tour of madness, insanity, education, and Technology! We're Technology Focused! :)