The latest update to this is included here in the Final Reprise! EMC 20% Unified Storage Guarantee: Final Reprise
After all of the brouhaha and discussion from a recent post EMC 20% Unified Storage Guarantee !EXPOSED! I thought it valuable to dive a little deeper into our own calculator.

I'm sure like me, some of you may have tried to use the calculator and found it to be really cool, but you also may have experienced a few bouts of frustration.   It's okay, I completely get it.  I get it so much that I'm writing this article to help reveal some of the challenges and how to overcome them.
For starters, one of the coolest bits about the EMC Unified Storage Capacity Calculator… is the fact it has a –help- option right there on screen.  I totally get it if you didn't notice it, or feel you're above 'help', I'm with you wholly! But I decided 'Why not.. what does the "?" unveil? Wait for it… it unveils secrets to your success! And a breakdown of the 'sauce' so to speak!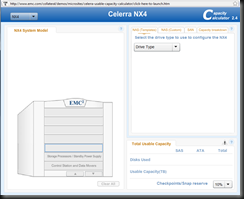 When you first launch the Capacity Calculator for the first time, you should see a screen which looks like this – It defaults to a NX4 with nothing configured or set up.
Configuration and Templates
Regardless of which System Model you choose, NX4, NS-120, NS-480 or NS-960, the "?" help text for the NAS/SAN/Breakdown will be the same across the board.  Exceptions being that the help file will specifically declare whether you're looking at a specific/respective model.   
As you start to fill the system with disks you may at some point come across an error such as 'not enough space', this will usually come up when you're playing around with SAN configurations, or NAS (Custom) configs.    There is no need to be worried or alarmed when this happens.   All this is saying is that based upon the configuration you have 'defaulted' in the column/tab you're working in, there is not enough "space" in that particular tray to add the disks.  
There are two ways to resolve this.    Either change to a disk format you can work with (Such as HS (Hot Spare)) as seen above, or using the arrows in the System Model diagram, you can move to another tray entirely!
System Models
What I find to be particularly useful and cool is the fact that when you select a particular system, hover over the "?" in the System Model section is that it will give you a breakdown of details about the system. (No more needing to go search the internet or call your TC asking "How many drives will my system take!?"  Not only that, but it also provides you with details of how you'd go about building this configuration – both in this simulator so to speak, and respectively when you go live with this as a real configuration.   Sweet if you ask me!
Total Usable Capacity
One particularly useful and cool bit about this is it not only tells you specifically what kinds of disks are required of the system, one particular complaint I've heard from some folks was about not knowing how many Spares were recommended in their configuration.  Well, check out the 'caution' symbol!
I built the following un-realistic configuration so we could drill down in to the system to see what it will report for 'spares' required.  Based upon this example, it looks like I need spares of every type, EFC, FC and ATA!    (I populated a tray of each type of disk to make this as unrealistic as possible :))  Pretty cool if you ask me!
But for the most part, this accounts for all of the 'errors', common or otherwise which I am noticing are encountered using this calculator.
Feel free to give it a good run through, but I'm so glad to see that a majority (read:all) of our concerns of how it operates and functions are actually solved right here in the help file! And in the case of SAN Custom Configuration (read:lack of templates) the little workaround for 'lack of space' above seems to address that in whole!
I hope you find the EMC Unified Storage Capacity Calculator to be as cool as I do, and that you get the best out of it!
Thanks and for those of you who haven't played with the Celerra Virtual Appliance yet – Go download the Uber version here! Besser UBER : Celerra VSA UBER v2 (That'll give you the ability to play around with the Celerra today without having to buy the hardware… nothing spells getting familiar than actually playing with a fully functioning system!)
Thanks, and good luck!
The latest update to this is included here in the Final Reprise! EMC 20% Unified Storage Guarantee: Final Reprise