Join the Red Team and help us save lives! – No seriously, we're doing this.. and we want you to be a part of it! The details below break it out!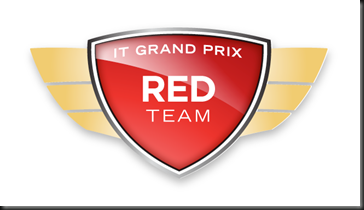 I hope you can help us out I am a virtual pit crew member of the Red Team in the IT Grand Prix.  This is a competition being put on to raise awareness of Microsoft Learning, training, and Certification. Starting on May 31st a ground team will be racing throughout the US to help local Charities solve their IT problems. The winning team gets to donate 10 000$ US to the charity of their choice.
Our team is racing for the charity NetHope. They work all over the world to help aid groups leverage technology on the ground better. This could include bringing in technical people to build network infrastructure, or providing training to locals so that they can continue to build and support technology that solves all sorts of problems.
This race has 2 components. We will be racing on the ground in each city. There are also online challenges. That's where you come in. If you could register as a member of the Red Team's virtual Pit crew on the website www.itgrandprix.com and help us out with some of the online challenges our team would really appreciate it!
You can help him by joining the "Team Red" pit crew at www.itgrandprix.com and selecting "Join The Race" to sign in and associate your Live ID with the team. It's simple to do, fun to follow the exploits of the team and also do something good for yourself (flex some of that certified learning / exams / helping others muscle) as well as others. Make sure you associate the live id that is also associated with your Microsoft Certification!
Once you're registered here's how you can help right away!
Let your followers know all about the IT Grand Prix, ask them to sign up for the RED team! Next, complete online challenges!! You can start right now:

Challenge: Take a certification exam
Criteria: The team with the most MCP exams taken by their pit crew between May 1 and June 4, 2010 wins the challenge.
Action: Register with Prometric and take your exam by June 4, 2010. No other action required.

Challenge: Recruit friends and colleagues to join your pit crew
Criteria: Each certification held by each new pit crew member (though May 21, 2010) is worth points to your team.
| | |
| --- | --- |
| 1 point | MCDST, MCSA, MCAD |
| 2 points | MCSE, MCSD, MCDBA, MCTS |
| 3 points | MCITP, MCPD |
| 4 points | MCM, MCA |
Action: Recruit your friends and colleagues to join your pit crew by May 21, 2010
Challenge: Participate in Born to Learn Discussion Forums
Criteria: In the IT Grand Prix forum, your ground team will moderate discussion threads. Participate in those discussions and the team with the most relevant posts wins the challenge.
Action: Visit the ITGP forum, find your team's threads ( your team color will be in the title), and participate in the discussion.

Challenge: Did you know you can track the number of times your VBC is viewed? Create and promote your Virtual Business Card to win this challenge.
Criteria: The team with the most cumulative views of their pit crew's Virtual Business Cards wins.
Action: Create your VBC and share it. Make sure you have the VBC linked from our servers (image versions do not count)!

Challenge: Take the Are You Certifiable Challenge
Criteria: Play the Windows 7 track and the team with the highest cumulative score will win.
Action: Play Are You Certifiable, (make sure you login with the same Live ID you used to register for IT Grand Prix), and select the Windows 7 track.

Challenge: Update your newsletter subscription preferences
Criteria: We recently added the ability for you to choose how you want to receive your MCP or MCT newsletter: monthly, weekly, or even daily. The team with the most people who have updated or confirmed their subscription preferences wins. That's it!
Action: Update or confirm your subscription preferences.
Update your MCP Flash newsletter preferences
Update your MCT Flash newsletter preferences
We also have a Facebook fan page where we will update you as we move throughout the challenge you can find here:
http://www.facebook.com/pages/IT-Grand-Prix-Red-Team/118301818209916
If you want to find out more about NetHope check out www.nethope.org
Thanks so much for helping out! If you have any questions about this don't hesitate to reach out!