I got asked a –great- question the other day by my boss (Props to my boss for giving me some great blogging material!)
"What are the Top 5 things you learned or thought valuable at EMC World 2010"
I cannot guarantee I'll give you 5 top things… or that I won't even exceed 5 things, but at the very least I'll outline what I found as the most valuable things, as well as discussions I had with various others as to what was the most valuable to be had/found!   If there are things you found particularly useful – Please do share it here so we can all benefit as well! :0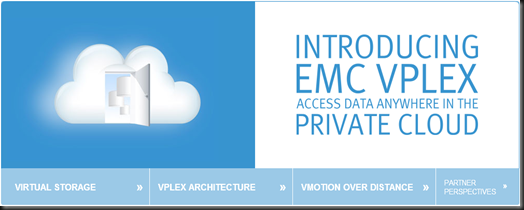 Yes, this was a big one for me, top of mind! So many useful things to talk solely about VPLEX alone! To share all of it would be a challenge! So let me break down some of the value points!
EMC has a great portal page around VPLEX which shares lots of useful information, collateral, white papers and more! (I'll publish a nice one later with PowerLink things soon)
My good friend Bas Raayman collated all of the blog posts covering VPLEX from the general purpose Blogosphere and Media analysts too!  EMC VPLEX – Introduction and link overview
So to wrap up my own personal experience around the VPLEX from the sessions, prior knowledge and playing with the live VPLEX LAB – This is really cool – Live data access on both sides of a metro link = rockstar event! Check it out! Check it out! :)
After you pick yourself up after drooling all over VPLEX, it's time to sign up for the Unisphere train, the Highlander of getting you to the Private Cloud "There can only be one… Private Cloud" and apparently, you'll manage that with Unisphere!
You can listen to and watch Chad present a video on using Unisphere to get you kicked off on things! Certainly, if you're at some of those non-youtube type locations, ask your local EMC to get you a demo :)      Though once you get yourself settled on a single interface for fun and managing off this rocking system, well.. you likely want it to do a little more!
This video actually takes you through some of the new features discussed at EMC World – Sub-Lun FAST, FAST Cache, and Primary block storage compression!
1) Sub-LUN FAST = automated tiering of storage (think "VMware DRS for Storage") – lowers cost of storage by between 30-50% on average.
2) FAST Cache = up to 2TB of low cost read/write cache – get more performance for the same $. In some cases, like VMware View – it can deliver same performance at 10x lower cost.
3) Primary block storage compression = save between 30- 50% on average on your storage consumption.
All sweet features which are pretty damn cool if you ask me! (Feel free to ask me.. we could discuss for hours on end ;))
Another cool feature which was announced at EMC World which most people don't usually think about, but I'm gonna get you to start thinking about it now!

It's easy to be efficient with EMC.

EMC® unified storage brings efficiency to a whole new level. We've even created a capacity calculator so you can configure efficiency results for yourself. You'll discover that EMC requires 20% less raw capacity to achieve your unified storage needs. This translates to superior storage efficiency when compared to other unified storage arrays—even those utilizing their own documented best practices.

If we're not more efficient, we'll match the shortfall

If for some unlikely reason the capacity calculator does not demonstrate that EMC is 20% more efficient, we'll match the shortfall with additional storage. That's how confident we are.

The guarantee to end all guarantees

Storage efficiency is one of EMC's fundamental strengths. Even though our competitors try to match it by altering their systems, turning off options, changing defaults or tweaking configurations—no amount of adjustments can counter the EMC unified storage advantage.

Here's the nitty-gritty, for you nitty-gritty types

The 20% guarantee is for EMC unified storage (file and block—at least 20% of each)
It's based on out-of-the-box best practices
There's no need to compromise availability to achieve efficiency
There are no caveats on types of data you must use
There's no need to auto-delete snapshots to get results

This guarantee is based on standard out-of-the-box configurations. Let us show you how to configure your unified storage to get even more efficiency. Try our capacity calculator today.
So, hmm.. What does this mean exactly?! Well, if you read above, that gives you a break down of what the deal offers.  But like you, I want specific use-cases which I can relate to!  
This basically says, by using the EMC Unified Storage Calculator – Without enabling features (like thin provisioning, etc) you know.. 'magic' features, out-right the system will save you 20%, and once you start to enable other features you'll see it grow above and beyond that – Sounds pretty compelling when it comes to the value of your solutions right?!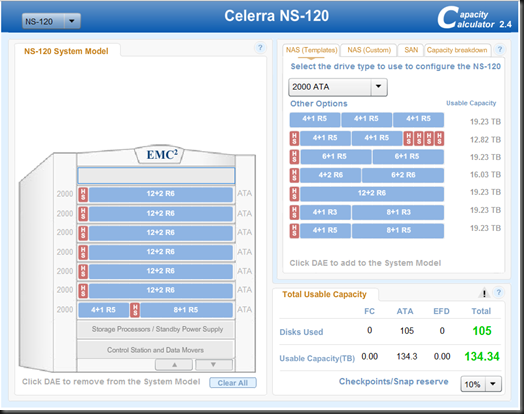 This is actually pretty damn sweet because it lets you use YOUR figures to determine what your space and layout concerns are, instead of generating off some spreadsheet with a bunch of jibber jabber and you go 'eh, I still don't believe it'  – But hey, don't let me be the judge, load up the EMC Unified Storage Calculator and give it a try your self :)
Oh, did someone say "Hey, Wasn't there some cool Ionix UIM 2.0 and Vblock things going on?!"
But we cannot discuss the rocking unified world of Vblock's and vSphere without at the very least mentioning the Next Generation vCenter Plugins!
So, while there were a REAL LOT OF COOL THINGS both Announced and able to be seen at this years EMC World 2010 – You're going to come away from it, whether you attended or missed the opportunity with some questions! So let me help you address these questions in tangible ways you can take it to your TC/SE and Sales Guy so you can make them work for YOU and your Organization.
Pick up the phone/email – Reach out to your EMC Guys and tell them you want to hear about:
EMC VPLEX – And how it's ease of use and whether the various use cases, Local, Metro and beyond will be a fit for your organization
EMC Unisphere – Taking next generation unified up a notch and enabling your datacenter to grow and scale with the Cloud

But seriously, the last one is really cool (Check it out, get a briefing with your Unified Storage guys as soon as you can because…)
Oh, and don't forget to ask about FAST Cache! I'll be covering this fairly deeply soon in some blog posts, including direct use cases, and my deep technical considerations and assaults on engineering I already have in the works to make sure that it works as I architect and not as marketing tells me to :)

EMC Unified Storage 20% Guarantee – This isn't 90 pages of caveats, this is heads up, you will save period.  Ask your TC to help you save! ;)
EMC Ionix UIM 2.0 – If you remember all of my coverage on UIM 1.0, 2.0 is actually gonna be the cats meow!
EMC vCenter Plugins! – These are pretty sweet, and will help manage your experience!
I'm sure there are numerous other things I did not cover (You be the one to tell me!) but the ones above I found particularly cool – So go check them out, ask your TC or Sales Rep (Let me know if you do… I'm pushy… :) But I particularly want to hear your experiences and impressions!)
Enjoy the new world, and share share share! :)