Hey big datacenter, I think "booyah" is in order, with this almost stealth announcement of UIM for Ionix!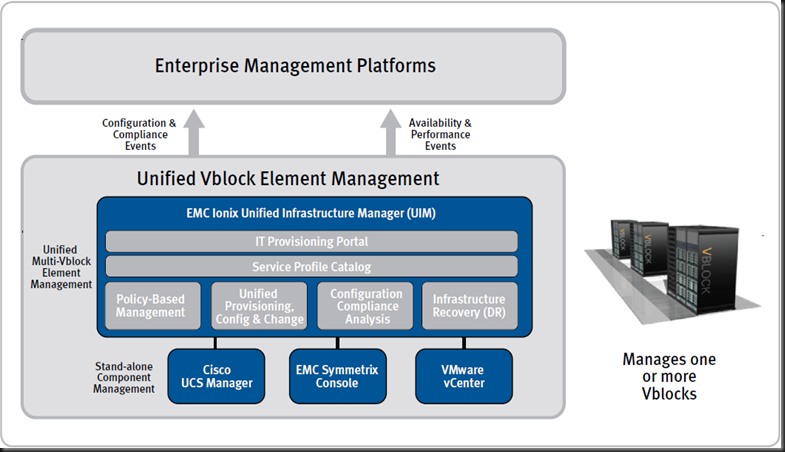 Look at the big picture and see what this means for your datacenter!
Unified Vblock element management

Manage one or more multiple Vblocks from a single management point

Consolidated Vblock dashboard

Policy-based configuration and change management

Deep visibility, including unlimited revision history

Integration with third-party enterprise management
So, out of box today UIM fully supports management of the whole Cisco Unified Computing System (UCS) stack, with evolution to support the rest of the Vblock infrastructure!   Which means taking your Pain of glass you have today and truly turning it into a comprehensive datacenter wide pane of glass for managing the entire stack from a single interface.
What this can mean is consolidated views of your entire Vblock infrastructure..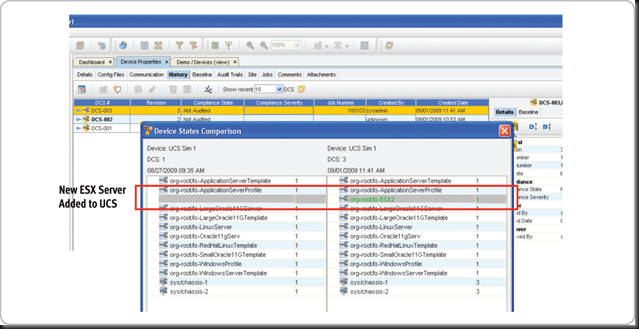 In the first release your datacenter will be cooking with Service Profile Catalogs enabling a "recipe" for building services and the basis for truly delivering infrastructure as a service.  Yea I know it sounds like lip service but when was the last time you truly had this level of 'cookie cutter' capability to deploy what you want, where you want it without having to reinvent the wheel every single time – Service Profile Catalogs will be the answer to let you take control of your datacenter again.
Though, if you feel that even creating recipes is a recipe for disaster – Policy-based management helps keep your environment honest to ensure configuration policies are set and enforced to ensure system-wide compliance to avoid configuration drift.   Oh, did I mention this functionality is also fully supported in this release of UIM with Cisco UCS Network infrastructure, such as Nexus and MDS? I say sweet! :)
What helps to complete this story is Unified Provisioning, configuration, change management – and a simplified integration.
What I'm particularly floored by is the deployment, bare metal provisioning which includes automated provisioning of the disaster recovery site! (Whoa, he did not just say Automated DR!)
The story around provisioning, configuration and change management will be the foundation of your success in the datacenter of the future.   Think about it! unlimited revision history, fine-grained tracking, traceability, and reproducibility! This isn't the datacenter of 2010! This sounds more like the datacenter of 2100!     Out the gate this first release of UIM will focus on the unified provisioning, configuration and change control of Cisco UCS and the related network infrastructure.
You aren't going to get away so easily though! I did say simplified integration and I mean it!   UIM Element management integrates with your existing enterprise management solutions on the floor today, providing change and compliance events to help track critical changes.   Furthermore, it leverages Cisco UCS manager APIs and EMC storage management systems allowing you to take advantage of existing instrumentation and component configuration.
So, putting all the marketing jibber jabber aside what does this mean for you, the datacenter owner?   This means that old fashioned model of "Is UCS ready? WTF is this VCE thing? Why do I even need a simplified datacenter operation? What do you mean Private Cloud, it's sunny outside!"  It means welcome to the future of your datacenter.   The days of silo provisioning, configuration, management and troubleshooting are over!   You know that the top of mind conversation for the 2010 datacenter and on ever C-class's lips will be  datacenter virtualization, reshaping the data center, and enhanced security – Take a look at that Gartner list and you tell me that VCE isn't the answer to 5 or more of them ;)
So, the future is most definitely here (hey, 14 days ahead of schedule! How can you go wrong?!)  So there's no better time than the present to educate yourself about this opportunity and what the rest of the future lay in store.  if you're looking to discuss the future of your datacenter, let me know because your priorities are my priorities!
I've taken the liberty to consolidate all of the Ionix Unified Infrastructure Manager 1.0 documents here for your ease: (Powerlink credentials required)
? EMC Ionix Unified Infrastructure Manager Release Notes
? EMC Ionix Unified Infrastructure Manager Data Sheet
? EMC Ionix Unified Infrastructure Manager Installation Guide
? EMC Ionix Unified Infrastructure Manager Report Advisor User Guide
? EMC Ionix Unified Infrastructure Manager Backup and Recovery Guide
? EMC Ionix Unified Infrastructure Manager System Management Console Guide
? EMC Ionix Unified Infrastructure Manager Regular Expressions User Guide
? EMC Ionix Unified Infrastructure Manager Infrastructure Driver Release Version Support Matrix
? EMC Ionix Unified Infrastructure Manager Non-EMC Software Read Me
? EMC Ionix Device Services Engineering DASL Language Changes
I'd also like to thank Chad Sakac for this great YouTube Video and post More VCE Vblock Details including EMC Ionix Unified Infrastructure Manager and Storagezilla for their post Vblock and Ionix Unified Infrastructure Management