Below are some sections cut/pasted from the registration site, but the important lesson here is – Yay! Early Registration is now available! Get it your registration on and get your gifts under the wire!  As I I don't know about you, but I like me some free prizes if I'm already planning on going to an event – Whether for networking, education, or just swag collecting and good parties. :)
You will be asked to create an EMC World 2010 username and password as you register for this event. Please note that accounts created for previous EMC World conferences or your Powerlink credentials cannot be used to register. EMC reserves the right and discretion to verify your relationship with EMC and to determine if your attendance is appropriate. For registration assistance, contact EMC World Registration Support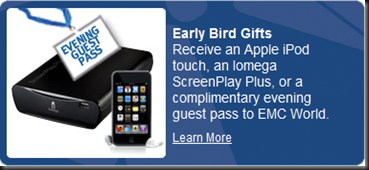 Early Bird Registration
Attendees who register for a conference registration package on or before February 28th, 2010 @ 11:59 p.m. MST and pay the conference fee of $1,895 on or before April 26, 2010 @ 11:59 p.m. MST will be eligible to receive either an iPod touch, an Iomega ScreenPlay Plus, or a complimentary evening guest pass to EMC World. Click here for full terms and conditions.
Eligible attendees will be able to claim their early bird gifts at the onsite registration counters. Details will be provided prior to your arrival in Boston for the conference.
You know the model – If you plan on attending something anyway, may as well register early and get some swag out of the deal!
So, don't forget – Get out there, get registered and get connected!