Do you like SharePoint or Exchange? (Or use it, or plan to use it, or want to know information about SharePoint 2010?) This is the seminar for you!
Is your SharePoint environment Secure? (Or even your Exchange environment) and are you looking for solutions around that? Check out what RSA has to say! (RSA Invented security, right?!)
I welcome you to join us for Lunch and content here in Lisle, IL at the EMC Offices! (I will be there, so I can see what RSA has to offer in conjunction with the Microsoft solutions, not to mention checking out the latest happenings on SharePoint 2010 – Yes, I know a lot around SharePoint, but I love it when someone knowledgeable gets up there and evangelizes on it!
A few things clipped from the invite, such as the products covered (Exchange, booyah!) and the 'intended audience' If I'm reading that correctly, that's almost everyone in IT ;)
Featured Products/Topics: Microsoft Office, Microsoft Office SharePoint Server, Microsoft Exchange Server 2010

Recommended Audiences: Technology Executives, IT Managers, CEO, CIO, CFO, IT Directors, Administrators, Business Decision Maker, Technical Decision Makers
Thursday, October 29
EMC Office
4225 Naperville Road, Ste 500 Lisle, IL 60532
10:30 am. – 1:30 p.m.
Space is limited, reserve your place now!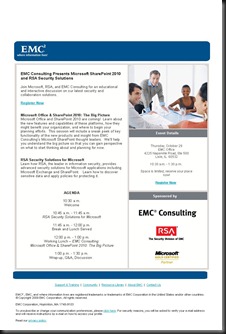 If you want an email invite, let me know and I can shoot one off to you! (I will be attendance!)