What a beautiful day it was here meeting these wonderful people here at Gwinnett Technical College in Lawrenceville, GA. Everyone was excited to be there, and eager to learn more about Microsoft Certification, Learning as well as Windows 7 and Server 2008 R2.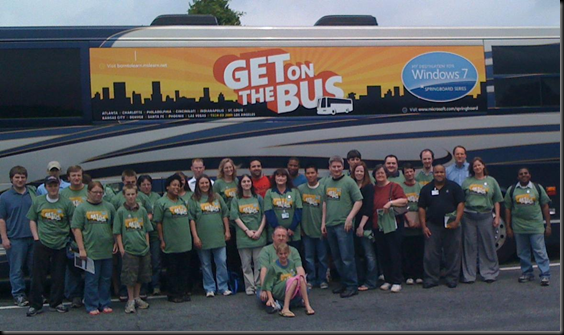 We got the opportunity to meet a lot of really amazing folks who are doing their part to drive forward their own lives as well as the lives of others around them by leveraging technology
Education comes in all shapes and sizes, and even some ghosts!
I'd like to especially mention Joey Snow, IT Pro Evangelist who delivered the Windows 7 and Server 2008 R2 here at Gwinnett Technical College and will be joining us at further places on the tour! You can follow Joey on Twitter at @JoeySnow
Also, thanks to the Gwinnett Microsoft Users Group who meets on the 2nd Thursday of each month at Gwinnett Technical College. Visit their website for more details here.
Here is a glance out at the next 3 days so you can stay in touch with us!
Sunday, May 3rd: Greensboro, NC to Philadelphia, PA
Monday, May 4th: Philadelphia, PA to Cincinnati, OH
Philly TechFest 2009 at Springhouse, 8:00am – 10:00am
Antonia Pantoja Charter School, 7:30am – 9:00am (private event)
Edward W. Bok Technical High School, 10:45am – 12:00pm (private event)
MCP "Tweet-up" in Columbus (be sure to follow us on Twitter for details!)
Tuesday, May 5th: Cincinnati, OH to Indianapolis, IN
MAX Learning Luau at MAX Technical Training in Cincinnati, 11:00am – 1:00pm (featuring Windows 7 previews, lunch, drawings and more!)
"Bring a Friend" Night at "LANTech Training, Indianapolis, 5:00pm – 7:00pm (bring a friend interested in starting a career in IT, and you both might win a TechNet Plus subscription (and your friend might win a laptop, too!))