I've had this particular site tagged for quite a while, but never got around to letting people who didn't know about it (yet read this) know about it.
Manybooks has quite an assortment of books, available in a number of formats!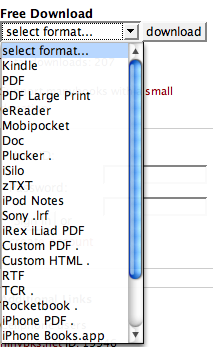 The typical way I would work with this site is, download a bunch of files into a directory, slap in one of my SD cards, and then copy the files down to the SD card – Put it into my Kindle and BAM! I now have all of those books available and ready for me on the Kindle!
Very little work on my part, it's a win-win situation all around!
This site has an amazing assortment of books, including most if not all of the Project Gutenberg library as well. I highly encourage you to check it out, whether you have a kindle, iphone, pc or any other method in which you'd like to read an assortment of books – You may be surprised at what is available!