"Wow, have a contrived enough hashtag for your party?!?!" Yea, I thought it through and… this is what I thought of a month ago, and I'm sticking with it!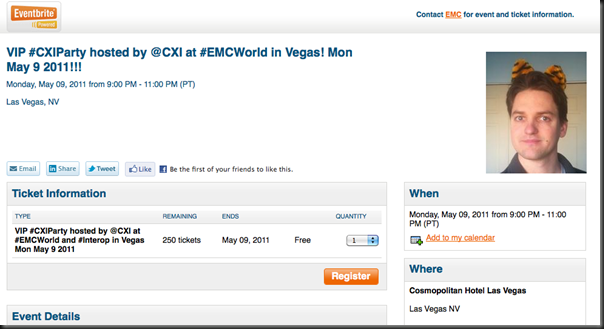 Okay, so if that wasn't bad enough… I even created an Eventbrite Invite for this event! Check it out at http://cxiparty.eventbrite.com/
Let's get the lowdown, the lay of the land, the scoop as it were; I'll quote from the invite briefly, and then go into the REAL Details! :)
Are you going to be at EMCWorld and always hear about all of these amazing parties which are either full, or you have too many to choose from and not sure where to go?  Well, look no further; in my eyes, you are ALL VIPs and I'm hosting a VIP Party at this years EMCWorld!

Theory has it I may also be having a SWEET VIP Suite for this event, and if I don't.. I'll still have a pretty damn sweet suite (say that three times fast!)

I called the hotel.  I HAVE THE ROCKING SWEET ASS SUITE!!!

With that said, YOU ARE INVITED, OMG LETS EXCEED MAXIMUM OCCUPANCY! Yea, that's the plan.

Sit down, eat, drink or whatever and talk with some of the best and amazing folks of Industry (food/drink will be organized based upon number of attendees)

Oh, Interop folks? Yea you're invited if you ask ;)

The where and the when?

This will be at the Cosmopolitan hotel – Exact room number to be determined when I get on the groudn and check into the hotel.

MONDAY MAY 9TH 2011 – COSMOPOLITAN HOTEL

Follow #cxiparty hashtag for more details as to the exact WHERE and the WHEN – Please do sign up for 'tickets' so I have an idea of what our occupancy looks like.

Feel free to invite a guest, colleague, customer, whatever.

This is a networking event or something to that effect, so come enjoy yourselves! Let's make the first official day of EMCWORLD a VIP Experience for all to enjoy!

Oh, FYI: If you want to "sponsor" which is a nice way of saying buy drinks, food, or even demo your tech/gear/whatever; let me know and everyone will GLADLY appreciate that, and I'll be sure to make gracious mentions of you, and who knows… countless video interviews, etc :)

And if you need to reach me, feel free to email, twitter or txt me.

christopher.kusek@pkguild.com
@cxi on twitter
630-362.1320

See you there!
We are going to be partying in this damn nice looking suite which will more than accommodate most of us if not all of us… Yea that's the ticket! ;)
1200 SQ Foot, with 480 SQ Ft Private Wrap-around Terrace, Panoramic views of Las Vegas Skyline; and the top minds in industry :)
So, if you're looking to talk to some of the finest of the finest, enjoy yourself in a relaxed yet hectic atmosphere with some absolutely amazing networking, fun and adventure, the party doesn't stop at 11 but I needed to figure out 'some' time claim it ends.  You'll make connections which will stick with you for your entire life.  So come on down, enjoy yourself and let's rock this out!
Vendors are highly welcome, customers especially.  #Vendors are also welcome to Sponsor and pay for food/drink and everyone wins ;)
This Monday night is all about YOU the attendee, so come on down, promote, share, so on and so forth and be sure to sign up at #CXIParty so I know who is coming! Guests are allowed!