This was an excellent follow-up after having visited the other school we visited that morning.
We we're welcomed and greeted here as we arrived at Edward W. Bok Technical High School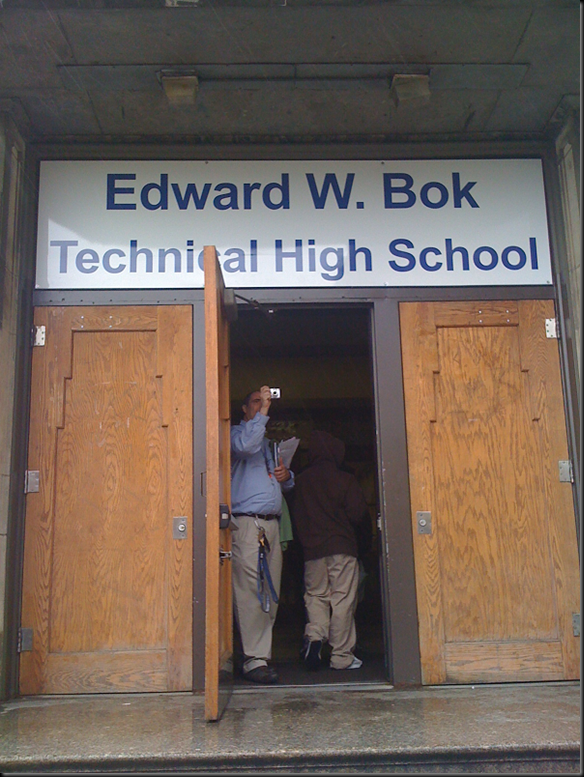 Bok Tech is is a pretty cool Technical School focused on training, educating and more. One particular cool fact about this place, is the building is 8 stories tall (Whoa! 8 stories!) and has approximately 1000 students who attend here, (roughly half girls, half boys – How's that for a school focused on providing an education with Technical education!)
They built this lab for hardware repair through donations, grants and ingenuity in order to provide an environment for education. (Hey, if you want to donate to help their education and cause, let me know and I can get you in touch with them :))
One of the cool things about this particular technical high school is the fact that it not only is a Microsoft Information Technology Academy, with all the benefits which come with that; but these students are also able to leverage the DreamSpark program in order to further their education and provide access to certification that they otherwise would be challenged to do. ITA's like this tend to have an aim towards getting students Certified at around the same time they graduate HS.
One of the notable moments of this particular story, was how Elise shared her story of how she came to work with Technology as well as to work for Microsoft. Her story was an inspirational one which spoke directly to women and girls of the world and the opportunities which await them. It shared a deep insight into not only her character but also into the lives of others and how it's important for you to take advantage of opportunities which present themselves but to also be cognizant of others and be supportive of their own efforts and pursuits.
Take a page out of Elise's book and be supportive of your peers, your sisters, your brothers and most importantly of yourself. There are opportunities out there waiting and available for you to take advantage of, all it takes is for you to take the initiative to invest in yourself and especially to invest in your future.