#Update# This is no longer valid – Please check out my #AsteriskGate post for details;
VMware feels the 'pinch' and "invalidates" the VCP-NV as a "valid VCP Certification" #AsteriskGate
#SadEndUpdate#
So you're a long time virtualization user. You've worked with the systems, you love VMware! (You might even have a bumper sticker on your laptop stating as such) Yet… You never got your VCP.
What?! Why aren't you a VCP?
This is a problem which plagues many an Admin who will often be multi-skilled and can justify the $225 price-tag to take the exam but whose employer will NOT pay for you to be away from the office, nor the hefty price tag often associated with the VCP course itself.  Yea, we get that, so what?!
The VCP-NV will be your savior! (Until 28FEB2015)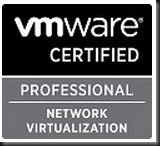 So for those of you who are familiar, VMware has introduced the VCP Network Virtualization an exam which is focused heavily on the Nicira product (Named NSX, and occasionally vCNS related stuff for you vCloudy's out there!)  Also for a limited time they have introduced a unique 'program' with this which is…
If you have a Valid CCNA Data Center or CCNA Routing & Switching or CCNP Data Center or CCNP Routing & Switching certification you are eligible to take the VCP-NX without having to have a classroom requirement! Full details can be found at VMware's site here on the VCP-NV.
Wait, how does this help me with my VCP-DCV?!
I knew you were going to ask that question.  Well, take a journey with me, shall we?
Earn your CCNA Routing and Switching (It's the cheapest of the options available)

(Unless you already have a CCNA R&S then you're on the way!)

Submit verification of Cisco Certification to VMware (Details here)
Study for and pass the VCP-NX
Now you're officially a VCP, which grandfathers you into the ability to pass ANY VCP Exam and earn the VCP designation without classroom requirement!
Schedule and pass the VCP-DCV (and/or VCP-DT, VCP-Cloud)

If you schedule your exam BEFORE 1JAN2015 you can use VCPRECERT25 for 25% off! (See link)
If you schedule your exam BEFORE 19DEC2014 and are located in APJ/APAC get 50% off! (See Link)

BOOM YOU'RE CERTIFIED!
Some of you might feel this is a lot of work. I don't think any of us didn't say it WAS, however it is also NOT having to take the classroom requirement and get around this little issue which quite frankly is awesome! :)  For a lot of us, it is really about principle and anything we can do to avoid an arbitrary classroom will work, that and in many cases it is quite cheaper AND expands your possible horizons! <3