Well it is finally here! Are you excited? You ought to be!
Who or what IS Infinio?!?
So I know what you're thinking, WHAT exactly is this?!  I first came to know Infinio earlier this year when I saw just how awesome this solution is.  Imagine a solution using server-side caching to minimize and off-load I/O requests so only what is required is sent back to the your shared storage.   It essentially takes 8GB of idle memory on your ESXi hosts and creates a deduplicated cache in memory.   Okay, that's a lot of jibber-jabber, what exactly does that mean?
If you're using NFS today you can simply download and deploy the tool in minutes.  And then all of a sudden you're ready to rock and roll!
The installation is as easy as this.  And then you're ready to go with your NFS datastore being accelerated.
I've talked with the engineers and creators of this product and I was excited for this when it was in Alpha and Beta.  With it being GA this is infinitely more exciting!  The coolest part is, this isn't simply a one-off solution which will impact your operations individually.  It scales with more installations!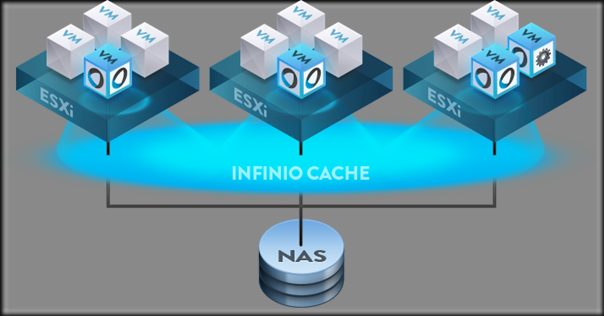 Fortunately unlike most products these days, the dashboard doesn't look like a disgusting pile of sin.  It's pretty and provides relevant information!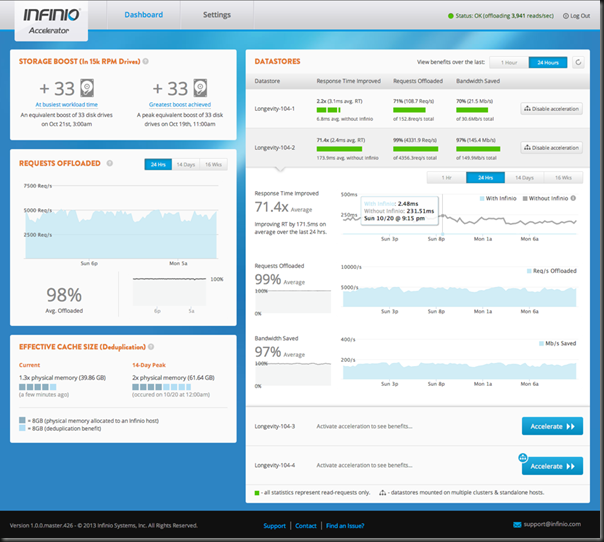 Couple of cool things associated with this release!
No new hardware. No reboots. No interruptions in service to install or implement.
Accelerates all workload types
$499 per host socket – scale and grow as you need
Download on a 30 day trial and license when complete – The true "Try before you Buy"
This can basically turn your NFS into providing Flash-like performance accelerating whatever your backend storage happens to be.   Hey, worst case you can give it a try and see it for yourself!
For more details you can check out the Tech Field Day earlier this year where  Peter Smith Demonstrates Infinio Accelerator
In addition today with the special announcement day there will be a Live Webinar with Q/A today Nov 5 at 3PM EST.
I'll unfortunately miss this awesome announcement webinar because… well, Afghanistan, timezones and I'll be asleep at the 1AM or so that it's at! :)
So check it out, be awesome, and rock rock rock!